With the latest, impressive addition to their paper void fill range, Kite can make your business efficient and eco-friendly
E-commerce demands continue to grow with pressures for ever-increasing speed of fulfilment. The modern consumer's expectations of next day or even same day despatches are being awkwardly intertwined with calls for eco-friendly packaging and business practices. These sometimes contradictory values cause challenges for businesses; thankfully, Kite Packaging has industry-leading solutions to satisfy all requirements of the FMCG industry.
The employee share-owned company's newest addition to their paper void fill range is called Hivefill and proudly declares itself as being the most economic product of its kind on the market. The paper itself boasts the same honeycomb structure as the bestselling Hivewrap which expands to reveal a pattern of tessellating hexagons. These hive cells provide flexibility and extreme space saving capabilities; so much so that one roll of Hivefill can fill the same volume of space as four bags of loose fill chips. The cushioning pads pack together easily when pulled by hand through the funnel dispenser as the cells lock into each other without the need for tape. The system can be operated quickly and easily, producing FSC certified paper that is widely recycled after use.
The Hivefill paper and dispenser is a convenient and efficient void fill method for low to medium output businesses, however, for higher outputs, Kite offer automated and semi-automated options. The Speedman range is easily adaptable to suit your business's needs, scaling all the way up to an automated Paper Jet system. This machine operates at twice the speed of any other paper cushion machine in the UK, delivering up to 200 pads per minute. The 'program' and 'series' modes grant the user detailed control over the output to personalise it to the specific needs of the business. Furthermore, this provides adaptability to cater toward the changeable needs of the e-commerce market; demand can rise and fall rapidly, necessitating systems that can quickly adjust to current climates. The paper dispensed is 100% recycled and recyclable, demonstrating the epitome of sustainability.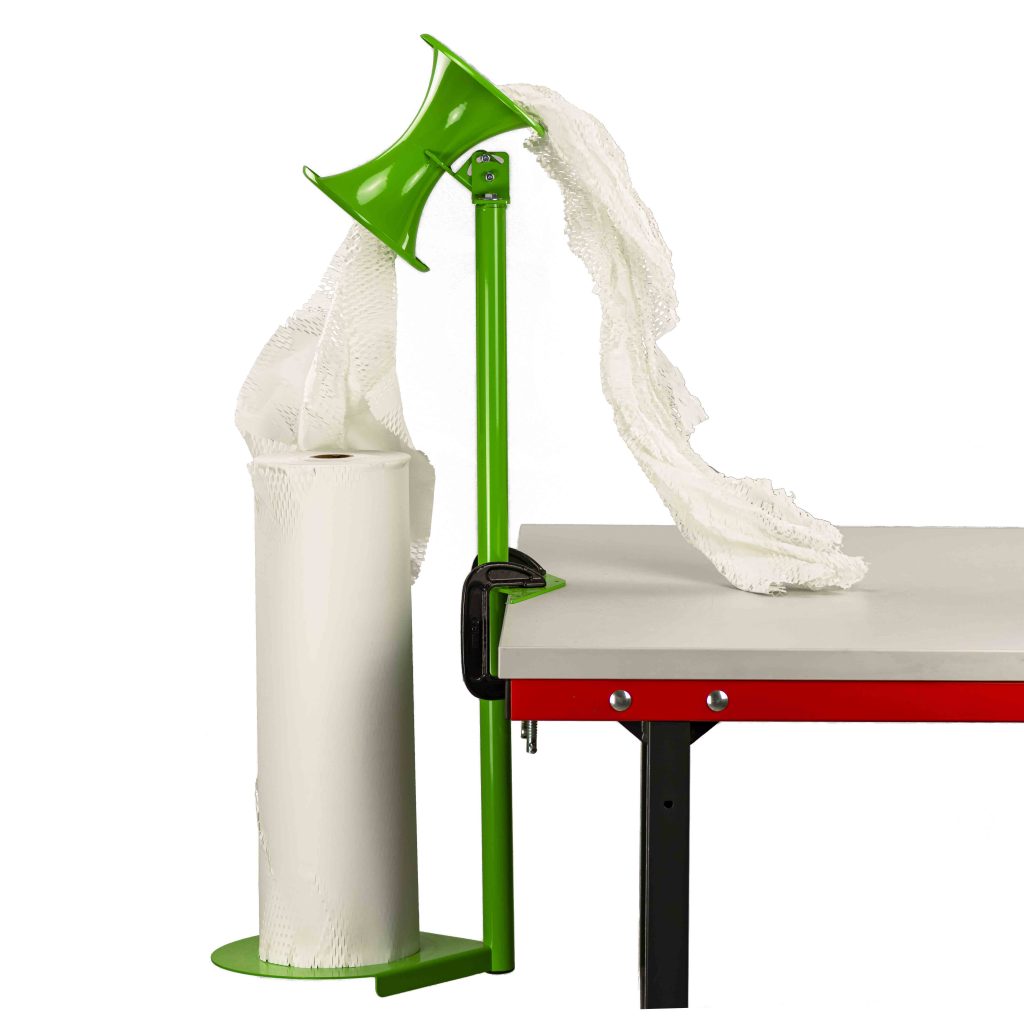 For industries where the aesthetic appearance of a pack is a high priority, Kite now stock an attractive range of shredded paper in a spectrum of popular hues. In either a ZigZag or straight cut ShredPak style, these shreds offer light protection to small items by holding them in place within a box. Minimising movement reduces the chance of damage while filling empty spaces with colour to heighten the overall unboxing experience. The cushioning product is recyclable and biodegradable to satisfy the environmental standards alongside aesthetic and protective appeal. Quick to grab and pack, Kite's wholesale shredded paper bags can be easily integrated into a station to elevate the luxury of a purchase without inflating pack times.
As the leading online packaging distributor in the UK, Kite are experts at navigating the challenges of busy warehouse operation; orders are despatched consistently and efficiently as testified by their 4.6 Trustpilot score. This high standard of service expresses their professional knowledge of how to run successful e-commerce businesses which informs their product ranges, helping their customers to experience rapid growth of their own.
Email: enquiries@kitepackaging.co.uk
Tel: 02476 420065