Alistair Bryan, from Flox, discusses navigating today's FMCG challenges with metaverse virtual events
Over the last year, FMCG brands have faced their greatest pressures for decades, with growing sustainability expectations and dipping demand for products due to more price-savvy consumers. A report by Circana in April 2023 revealed the six largest markets in Europe have seen a 1.1 percent fall in demand for unit sales of consumer goods over the past year, which isn't forecast to return to normality until the end of 2023.
Retail leaders are turning to technology as they seek digital ways to harness their brand ecosystems and engage with customers, employees and stakeholders. Within their organisations, leaders are embracing tech to make faster decisions and improve operational efficiencies for sustainable growth – the need for Fortune 500 and fast growing FMCG brands to become efficient and globally connected has never been greater.
Evolution from physical to virtual events
While there's a time and place for traditional in-person events – the tried and tested model of large-scale collaboration – are becoming less relevant for digital business. Aside from the carbon impact moving the needle of Net Zero objectives in the wrong direction, there's a clear lack of agility in getting the right people in the room and ineffective capturing of output. In addition, the frustrations around lacklustre 2-D webinars have leaders looking for new ways to unify multinational teams in their thousands.
The good news is that metaverse virtual events have emerged as a viable alternative for real, live and immersive experiences.
These large-scale virtual events are trending rapidly across the globe – According to GVR, the global virtual events market size was valued at USD 114.12 billion in 2021 and is predicted to reach USD 618 billion by 2030. However, some CEOs have yet to experiment with metaverse virtual events or may not know enough about the huge potential of these new models for communicating and collaborating.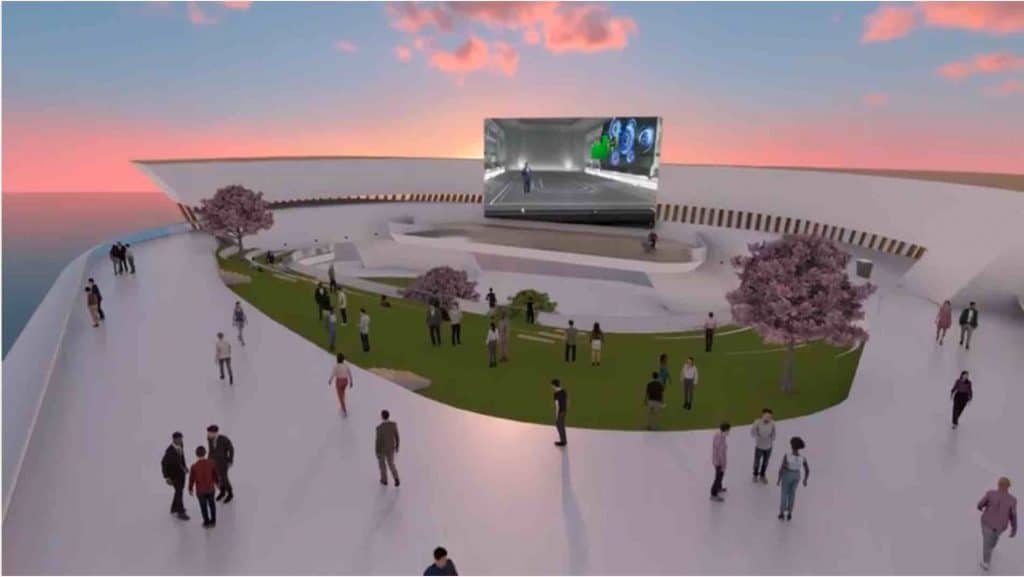 What are metaverse virtual events?
A 3-D virtual events platform offers FMCG organisations and brands a three-dimensional web – or 'metaverse'- experience to help create the most human virtual and hybrid live events that revolutionise the way we do business. The powerful, easy-to-use and immersive platform allows participants to create their own avatar and access a virtual 3D event experience where information can be easily experienced, captured, and shared for boundless collaboration, in limitless languages. Essentially, attendees can experience the event as flexibly as they would in person, with the event easily accessed at home or work through a mobile device or computer screen.
With the Flox platform, anywhere from a few hundred to up to 25,000 attendees can wander the 3-D space simultaneously. This means there's no longer the need for a team 'representative' to attend as the entire team can sign up. Even a keynote speaker who's double-booked can join a meeting remotely.
Aside from full virtual events where all participants join remotely, hybrid events are also fast gaining in popularity. This involves a digital twin being built of a corporate HQ, with the content delivered through the virtual event platform to a real screen at the retailer's event. Alternatively, a live feed from an in-person audience can connect remotely to relay content to a real-time or catch-up larger audience. This remote access offers serious potential to maximise audience reach, and has the advantage of creating more diverse and inclusive events.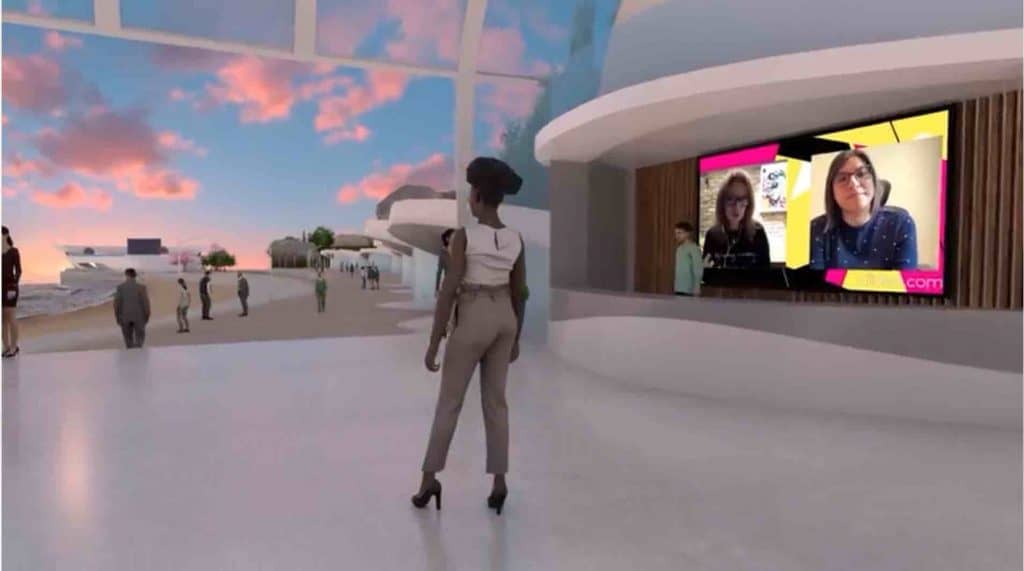 The demand for 3-D events within the FMCG industry
More progressive C-Suite leaders are already adopting metaverse virtual events to open new channels for growth and collaborate with stakeholders in new and immersive ways to become more digitally connected global businesses. In fact, the FMCG industry has been a leading sector making early investment in this new technology. FMCG CEOs can deliver their objectives through connecting and increasing productivity within national or global teams, and engage customers through building brand hubs that exist in the metaverse.
Within the FMCG industry, there is clear demand to re-imagine a live experience in a digital format as CEOs manage their many challenges and priorities. A virtual event may be the ideal channel to communicate brand information and benefits, launch products, network or engage with their partner and supply chain ecosystems. The broad range of use cases for the FMCG industry includes conferences, summits, exhibitions, trade shows, product launches, networking events, recruitment fairs, internal communications and concerts and performances.
The multinational Molson Coors Beverage Company used Flox to host the first virtual event for its global marketing team to make its annual marketing event even more engaging. The 300-strong team were unified to share their roadmap, and to showcase innovative ideas, brand values and great work. Breakout sessions and instant messaging allowed the teams to interact with internationally-based colleagues, to collaborate and to capture and share content in real time.
Benefits of metaverse virtual events
In challenging economic times, there's no better time to evolve business and industry events to the next level when a metaverse virtual events platform can save 85 percent of the budget and hundreds if not thousands of metric tonnes of carbon. Based on 2,800 attendees of a physical event, an equivalent global Flox virtual event for a global brand would have saved 338 metric tonnes of CO2. To top it off, hosting the event virtually means brands will maximise participation, diversity and inclusion.
There's also great scope for its use in an FMCG context. In offering a highly interactive way to engage with teams across EMEA and globally, benefits include internal alignment across the business functions on products, services and policies. This can help to unify stakeholders for key moments – for instance, the start or end of the year, or launch of a product line or campaign. A two-day sustainability summit for partners, suppliers and customers can educate a global audience on the brand's sustainability policies and initiatives – from manufacturing, to transport to packaging. Flox ran PepsiCo's  Global Sustainability Summit on the platform last year.
With easy customisation such as unique embedded branding, each retailer's virtual space is bespoke, and they can implement functions that best serve their audiences. The event effectively caters for a fully international audience, with events delivered in multiple languages using integrated translation software, dubbed commentary and subtitled translation.
The AI-driven intuitive platform helps event participants find the right people, create spontaneous break-outs, schedule one-on-ones, and message others instantly. Meanwhile, safety and privacy is maximised, with security embedded in the application.
The right time to switch to virtual events
With C-suite, digital, marketing and events leaders in retail needing to do more with less, there's no better time to evolve business and industry events to the next level.
In making the switch from in-person to digital experiential events, FMCG CEOs and their executive, department and team leaders can take the opportunity to harness disparate teams of globally dispersed participants for a brand launch or refresh, supplier forum, sustainability summit and much more – all while meeting some of their biggest ESG goals. With Fortune 500 FMCG brands leading the way with virtual events, it's time to explore the possibilities offered by live and immersive digital interactions in the metaverse to drive business success.