Plastic bins and containers offer FMCG companies sustainability as well as efficiency benefits, writes Edward Hutchison
FMCG companies dealing with fast selling goods with a short shelf life will want transit packaging units that are durable, light, protective, secure, easy to identify, easy to handle and convenient to transport. All this must come at an economical price across the unit's life. This generally leads operations to multi-use plastic containers for transport packaging.
Those that do use multi-use plastic containers find the use of reusable packaging instead of disposable cardboard offers sustainability benefits. For example, during their long service life, BITO's extremely durable multi-trip MB distribution plastic containers will each save more than one ton of cardboard.
Store, pick and pack
Inside an FMCG warehouse, plastic containers provide an ideal solution for storing a variety of SKUs on racking, shelving or in carton live storage flow lanes. Replacing existing cardboard containers that become tattered and often irregular in size on shelves with resilient plastic bins, not only adds to the protection of goods but also provides a smarter, more uniform look to the work environment. Adding an inclined tail at the end of a live storage flow lane to tip a bin or container at an angle on the pick face, will give staff better access to, and visibility of, what they are picking, thus contributing to pick accuracy. Inclining totes placed on galvanised shelving offers a similar benefit.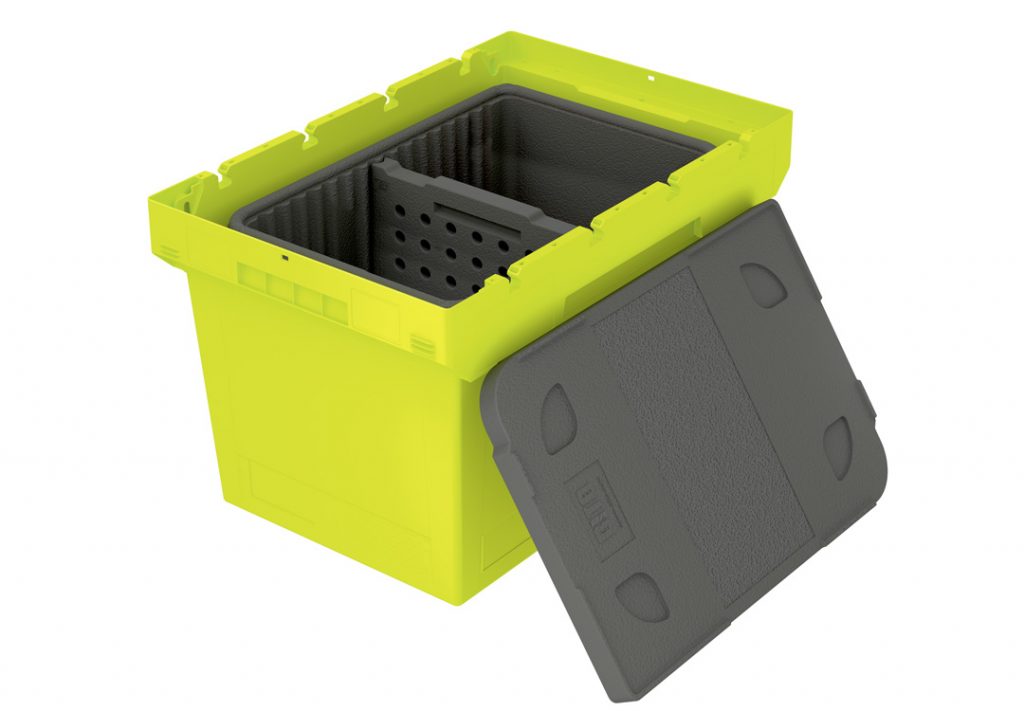 Goods picked from storage locations are often put into plastic order totes, which provide a convenient and protective unit to be transported around picking zones, often on a conveyor, as directed by the warehouse management system, or increasingly on mobile robots. Containers with a ribbed base will reduce noise levels when travelling on conveyors. When the picking tote is complete, having visited all the required pick zones, it can be sealed and sent to be consolidated into store orders.
In addition to being designed for a long service life, a high quality container can be used throughout a supply chain as a multiple-function unit for storing, picking and shipping products. A key advantage of this multifunctionality includes cost savings and the avoidance of repacking, which helps to reduce order throughput times. Empty containers – with or without stacking rails and lid – can be nested to save space; open lid halves do not build up on the sides. On return trips nesting containers can save up to 75 percent of freight and storage costs.
A further argument for plastic containers providing an eco-considerate and cost effective packaging solution is a reduced need for recurring ordering of packaging material. Indeed, switching from disposable cartons to reusable MB distribution containers, one BITO customer reached the break-even point after only 10 shipments. This range of containers is available in sizes in sub-divisions of an 800 x 1,200 mm standard Europallet with a standard, double or ribbed base and allow stacking loads of up to 800 kg.
Delivering the goods
As mentioned, in addition to performing a vital role for storage and order picking, the importance of plastic bins and containers continues outside of the warehouse. A good example of this is their increasing use for online deliveries in grocery retail logistics.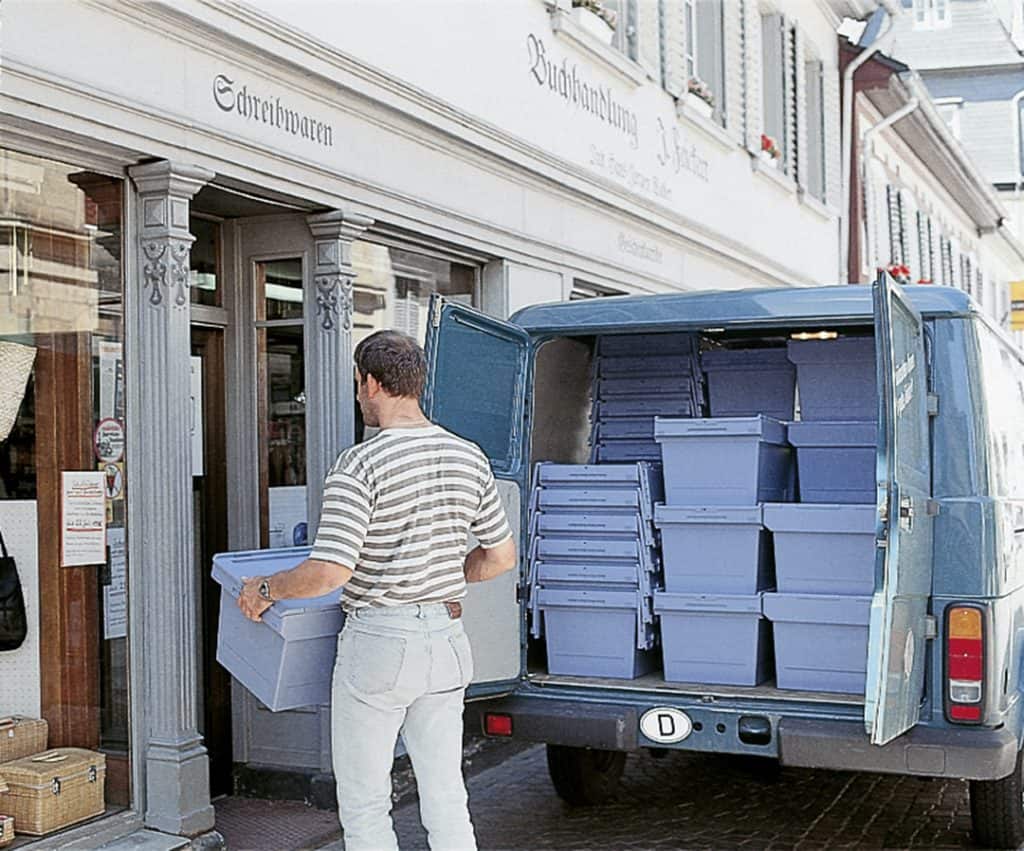 Plastic containers can be highly beneficial in the delivery of temperature-sensitive foods. Safely to the consumer while minimising packaging waste are vital factors in a sector where goods must reach the consumer undamaged. Freshness and quality assurance are other top priorities, while compliance with cold chain requirements ­– from leaving the warehouse to door-step delivery – is essential. In addition, goods that need to be shipped standing upright must be secured against tipping over. Another requirement is to reduce the number of totes required per delivery and to minimise the storage area required for empty totes.
A Food & Delivery container, designed for last mile logistics and offering safe container for shipping a variety of fresh and frozen food, is included in BITO's MB multi-purpose container series. It is important that a wide variety of products can be transported in the same container without wasting space.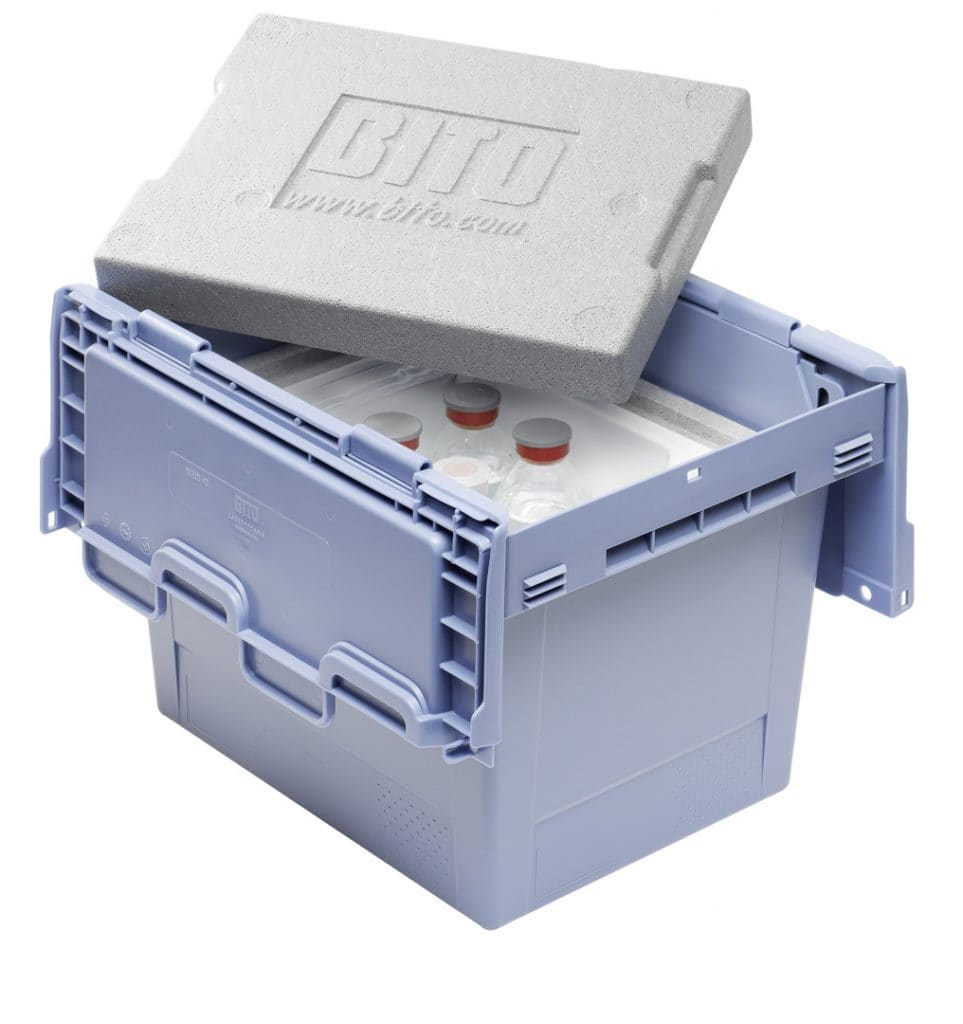 Features making it an ideal shipment tote for online grocery shopping include dividers that prevent items from slipping, tipping and leaking and ensure bottles or cups remain in an upright position. Equally important are insulation inserts made of EPP to provide a variety of dry storage or lower temperature areas for fresh produce, dairy products or frozen foods. Thanks to these inserts, it is possible to create several temperature zones within the same container. Ice packs that fit the size of the containers divide the volume into product specific temperature zones to preserve food quality during transportation and delivery. This is an advantage for small orders with only a few items per temperature range. Being able to ship these orders within the same container reduces the number of containers per customer. Empty containers can be nested to save space on return transports.
Making containers work in any FMCG role
It is helpful to find a supplier that offers a range of bin and container designs to meet different FMCG warehouse and logistics applications.
Depending on the type of container there are many useful optional extras to further improve optimise the bin or container to its role in retail warehousing and logistics. For example, lids to protect contents from dust and dirt, which can also be security-sealed to prevent unauthorised access to goods. Dollies create convenient in-house transport. Label pockets protect labels to ensure clear barcode reading and identification. Bag holder bars, mounted on the upper sides of a container, are a particularly practical accessory for the booming online food retail business. Translucent containers with coloured attached lids offer an ideal aid for organising stock, while also helping to give visibility of products. For delivery purposes, folding boxes and 'stack & nest' containers maximise storage capacity and minimise occupied space on empty return transport to cut freight costs.
Having a 'one stop shop' supplier that can manufacturer and design racking and shelving as well as the bins and containers contained within means that both product groups are optimally adapted to each other to form a perfect bin shelving system that gives the smoothest operation. Selecting the right bin or container will ensure the optimum use of shelving space. To ensure this is achieved, FMCG companies can spend time with BITO to find the right configuration of storage and to select the right container to match its products. For further information, visit www.bito.com.
Edward Hutchison is Managing Director of BITO Storage Systems