OPM discusses resealable label technology and its latest labelling
creation that's set to advance customer brands globally
The use of re-sealable labels has rocketed as consumers rely on the convenience of portable, easy-to-open, easy-to-close packaging.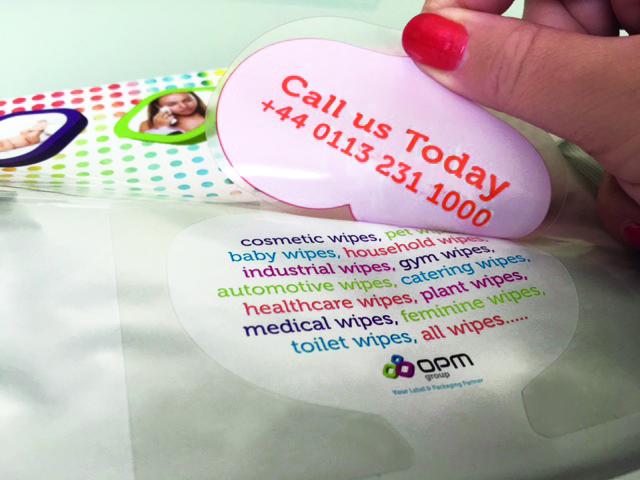 Used across Cosmetic, Personal Care, Baby and Health to Household, this reliable re-sealable label retains product freshness, moisture as well as providing brand identity. Die cut peel & reseal labels are available for packaging normal (aqueous) to "hard to hold" products containing fragrances, alcohols and antibacterial agents. OPM's creative and technical team drive changes in its products and performance by creating printed labels and packaging that challenge existing products in the marketplace. This approach to packaging is a balance of function, technology-driven thinking and environmental awareness.
Through fresh and insightful thinking, the team create a luxury feel whilst adding value through print. Visually, decoration comes in a number of forms: clear and coloured finishes, soft touch, tactile or hi-gloss coatings and patterned over laminates for the printed flow wrap. There are multiple varnish options while cold and hot foiling offer metallic distinction in a number of colours. The sense of smell can also attract the customer's attention, we can add scent to labels: fruit inspired strawberry and lemon are popular. Functionality is also key: labels can have added tamper evident and security features as well as braille/tactile data. Permanent antibacterial protection is another option which, added to the label or the flow wrap, is popular with patient care and hygiene products.
OPM has created something new for the rigid label market
Four years ago, we patented a product in response to our clients' desire to reduce their use of plastic and reduce packaging weight without impacting on the product or end user experience. This thicker label closure, designed to replace rigid plastic moulded lids weighing typically around 8 grams, is a much lighter alternative at 1.8 gram. Therefore, comparing the weight difference of 5 million rigid plastic lids @ 8g = 40,000 kgs or 5 million TLC is @ 1.8g = 9,000 kgs, the weight saving is substantial @ 31 tonnes. This reduces transportation costs, storage space and lowers C02 emissions throughout the supply chain. The TLC does not comprise the product moisture as it provides a hermetic seal that retains moisture for the full life cycle of the pack. The lid stands open when in use to aid the consumer. TLC can incorporate all decorative print and security features and accommodate an integrated hanging hook that's useful if you need to hang a wipe pack away from an unsuitable surface, user, or simply wish to keep it positioned in the same spot. The TLC label can also be printed on both sides, allowing a second advertising opportunity or space for additional information including recycling advice. For the packer, meanwhile, reel format means easier handling/reduction in storage space and allows high-speed application because it's less bulky on standard label application equipment. OPM offers single layer, double layer and semi rigid (opening left to right & bottom to top) various adhesive combinations to enable repeated opening and closing on different substrates and supporting a number of barrier properties. We specify label materials for closures to mirror the flow wrap material construction to promote recycling capability. For example, PE for PE Laminates or PP for OPP laminates.
OPM cares passionately about creating, manufacturing and bringing to market new packaging designed to advance customer's brands and value globally whilst staying relevant in an ever changing world.
For more information, call: 0113 2311000, email: sales@opmgroup.co.uk, or
visit their website: http://www.opmgroup.co.uk