One of the world's most respected names in health food is also developing a growing reputation as the perfect co-packing partner
Until 2020 Holland and Barrett only packed for its retail and digital channels, both domestically and internationally. In March, however, it made a strategic decision to further grow its manufacturing base leveraging years of experience in the field of vitamins, food and sports powders. This has allowed the company to expand in co-packing, servicing many of its own suppliers. Since then, the customer base has grown rapidly from major large multiple retailers to small start-up ventures. Product ranges packed so far under co-pack arrangements include flours, rice, chewing gum, gummies, vitamins, superfoods, powders and cereals.
Through its extensive experience servicing major UK and International retailers, Holland & Barrett offers a full end to end service offering advice on packaging formats, technical support and supply chain for both niche one off tests and trials alongside high volume production runs. This gives companies the perfect opportunity to either trial new products or new formats cost competitively or alternatively use Holland & Barrett to supplement their own core operations or supplier base.
Stellar Life
Stellar Life wanted to offer a larger volume of Apple Cider Gummies than the normal 30-day supply. Holland & Barrett responded with many variations of bottle sizes, bottle colours, cap colours and supply of labels. Today, the products looks amazing.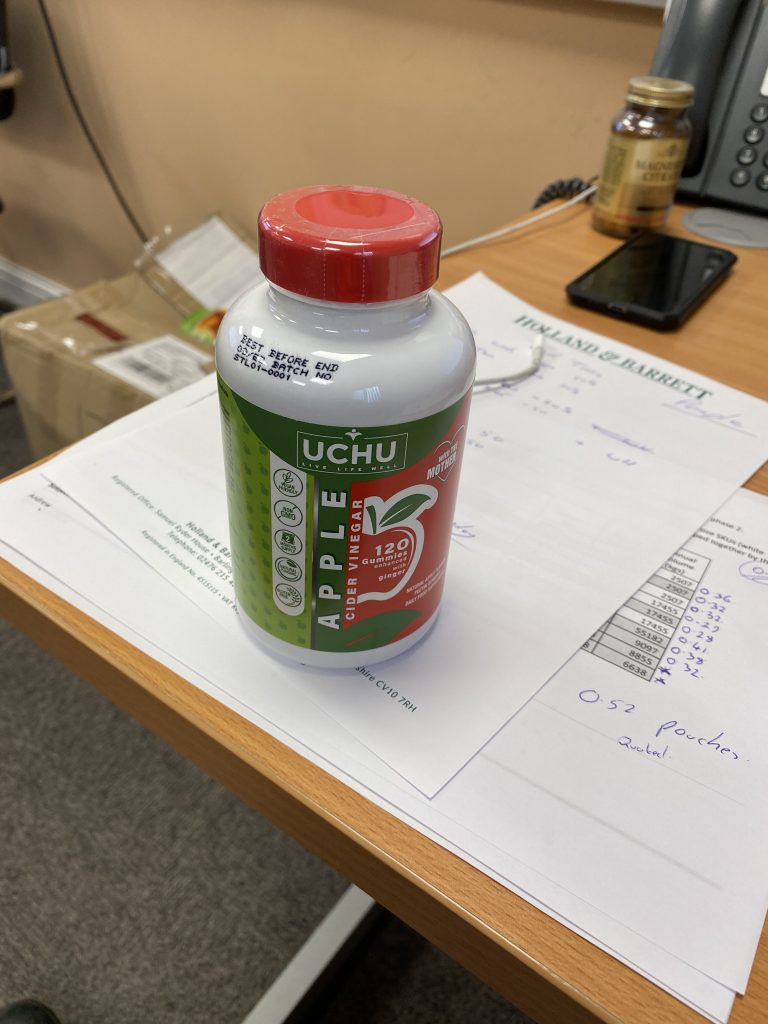 The company said: "Choosing to work with Holland & Barrett has been the perfect decision for our business and exceeded all our expectations. Their great customer service professionalism, knowledge of the industry, range of choice and willingness to go the extra mile has helped us achieve all our goals. We look forward to working together for all our future endeavours."
Neubria Vitamins
The two companies began discussions earlier this year about Holland & Barrett co-packing which would give Neubria better costs and easier logistics, as products would only need moving 200m from the H&B manufacturing site to the distribution warehouse. The relationship has since blossomed and expanded with Holland & Barrett co packing for international projects in Holland and Greece.
Oliver Rushton, Operations Director at Neubria, said: "In what has been a very difficult period, orders have been packed on time and accurately and the team has often gone the extra mile to help me meet tight deadlines. I look forward to developing the relationship further in 2021."
Nom Nom Not Limited (Vegan Brownies)
"We submitted a query to the BCMPA and within a couple of days, Holland & Barrett replied offering to chat. Over the next month we worked out details, and had our first batch made! Operations Manager Tony Barlow and the rest of Holland & Barrett were amazing to work with, especially given we are new to the industry and had to ask a lot of questions. They've also been incredible to work with on trialling different packaging methods to help bring cost down and make the product look amazing." Callum McDonald, Financial Director.
Milliways Food
"Our friends at Holland & Barrett have been an incredible help to us since we launched Milliways, undertaking the co-packing and product assembly functions for our business. They've taken the time to explain everything that's necessary in order to deliver products that we're all proud of, and have been flexible and generous in the use of their vast resources and experience. They've been professional, transparent and informative throughout the process, helping us understand what is required and how we can work together to achieve the desired quality and outcomes that reflect positively on all parties involved.
The experience of their organisation is strongly evident in the care and attention they put towards each of our products. We greatly appreciate the time and effort from such a large organisation, supporting start-up businesses like Milliways as they grow." Tom Raviv, founder and director at Milliways.