Structural packaging specialist John Lamb has led high-level innovation projects for some of the world's largest FMCG companies. His latest collaboration has resulted in a hygiene advancement that offers myriad benefits to consumers, companies and the environment
Innovation originates from many places, but usually either from a new or recently perceived consumer need or from a new advancement in technology or science. These forces work symbiotically, identify the consumer need and create the technology for it, or discover a new technology and work out how this can benefit the consumer.
In recent years we've witnessed companies innovating and evolving. Without going into the why's or when's, we know that the tobacco industry is now creating new products such as nicotine gum or vapes. Nokia famously transformed itself from a paper pulp and rubber manufacturer into a telecommunications company and was at one point the world's largest mobile phone supplier. Netflix sold and rented videos and DVDs, Amazon was initially an online book retailer only, IBM abandoned its hardware business in the 1990s and concentrated on IT consulting and research. The list goes on…
As the COVID 19 virus hit and 2020 unfolded, it became clear that many businesses would suffer, and hard strategic decisions would need to be made in order to get through the inevitable turbulent times ahead. It became clear that the future was unclear and that many companies may need to adopt an agile, innovative approach to survive. Whilst many FMCG companies thought about how to market their goods in new ways, either via e-commerce, viral advertising or through direct selling, our client had a different issue to resolve. Left with the choice of hunkering down for an unforeseeable, uncertain future or being bold and innovative, our client opted for the latter.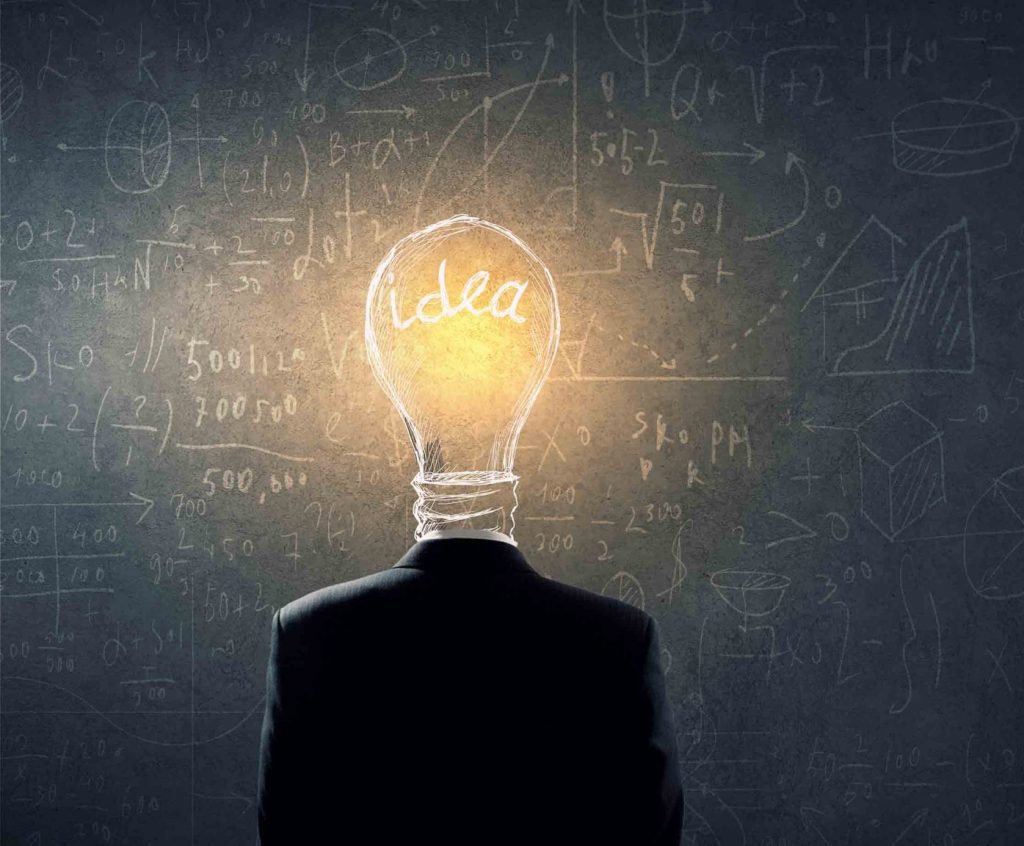 As a travel accessories and luggage retail company, Omnimus was planning the future. We were helping them to create and launch a new luxury brand, together with accessories and products, develop new sub-brands and even consider opening their own stores in London and Hong Kong. Then the pandemic struck. Inevitably the travel business took a massive hit; sales in travel goods, accessories and associated items fell by 85 percent globally. As well as on the high street, historically very profitable retail channels in airports and railway stations disappeared almost overnight and the switch to e-commerce for these travel products did not materialise as no one was travelling! So our client decided to innovate and use time to create a new product.
Eventually named DeACT, the product was conceived whilst looking for solutions to what was presumed would become the norm – the need to sanitise and reduce transmission of the virus.
As 2020 progressed and the world adapted to locking itself down, we started to learn a great deal more about the virus. It soon became clear that it was spread through airborne particles and surface contact with hands and thereby inadvertent transfer to mouth, nose and eyes. We all started adapting to the potential solutions. Masks, face coverings, shields, sanitisers and wipes suddenly became very important. And then advisory, and then mandatory. Whilst we were all adapting to the shock of shielding ourselves it became clear that we still had to live our lives, shop for food, exercise, work and interact with other people. Unless we remained in our home cocoons we would unavoidably make contact with the virus.
Soon liquid and gel sanitisers were everywhere and to a huge extent still are; a necessity to help fight the virus and make us safe. Every shop doorway, office and public building was obliged to not only carry warnings and offer advice but also ensure that sanitisers were freely available to all. And the cleaning practices of every home and public space needed to be reviewed. So we have now become familiar with hotels advertising their cleaning policy when booking and informing travellers that the procedures have been carried out. Public toilets have visible rosters to show when they have been cleaned, and restaurant tables are disinfected after each sitting. Inevitably the global disinfectant market has grown hugely. In the US alone the market – which is split into liquids, wipes and sprays – grew from $882.38m to over $1000m in 2021 and could double that by 2028 (grandviewresearch.com).
But what if a liquid or gel cleaning product could not be used in a particular space or on a specific surface or product? How do you sanitise a keyboard or elevator buttons – everyday things that we all come into contact with? Added to this is the potential issue of product toxicity. For example, some disinfectants contain sodium hypochlorite, which is an effective treatment against blood-borne pathogens but is highly corrosive and a respiratory irritant – not good for a respiratory virus such as COVID 19. However, due to consumer and legislative demand there is a growing need for greener solutions to fight the harmful bacteria and viruses in certain places. Another issue is food and beverage sanitisation. All products need to be cleaned at source prior to packing or deliver to supermarkets. Fresh foods such as fruit and vegetables are no exception but how do we ensure they stay clean through shop assistant and general consumer handling?
Could technology provide an answer? What about ultraviolet light? Combining the latest technology with existing liquid-based sanitising solutions should be easy to execute and could create a more powerful overall solution for creating and maintaining safe working and living spaces. While liquid-based sanitising products are good for wiping down physical dirt and killing germs and viruses on non-porous surfaces such as glass, plastic, and metal, they are not as well suited to wood, leather or fabric. Wetting these materials could damage them irreversibly. Moisture on wood and leather could cause discolouration. Moisture on wood veneers could also cause them to warp and shrink. UVC would be better suited to these materials. Cases have been reported at hotels where moisture from cleaning agents has caused lifts to malfunction, leading guests to the less glamorous basement rather than the luxurious hotel lobby!
So an idea was born, in the words of our client Wade Tang, "We thought a handheld and powerful ultraviolet steriliser would help protect both loved ones and businesses alike. It could encourage best hygiene practices to build healthier, cleaner living and working spaces."
DeACT (De-act.co.uk) is a UVC light wand that has been laboratory tested on bacteria and coronavirus.  It kills 99.99 percent of germs in under 5 seconds, and 99.99 percent of coronavirus in under 3 seconds. It uses no chemicals – the light sanitises the products, food and beverages in an easy to use way. It also eliminates both the need for excessive plastic packaging and the tons of chemicals being washed into the waste systems.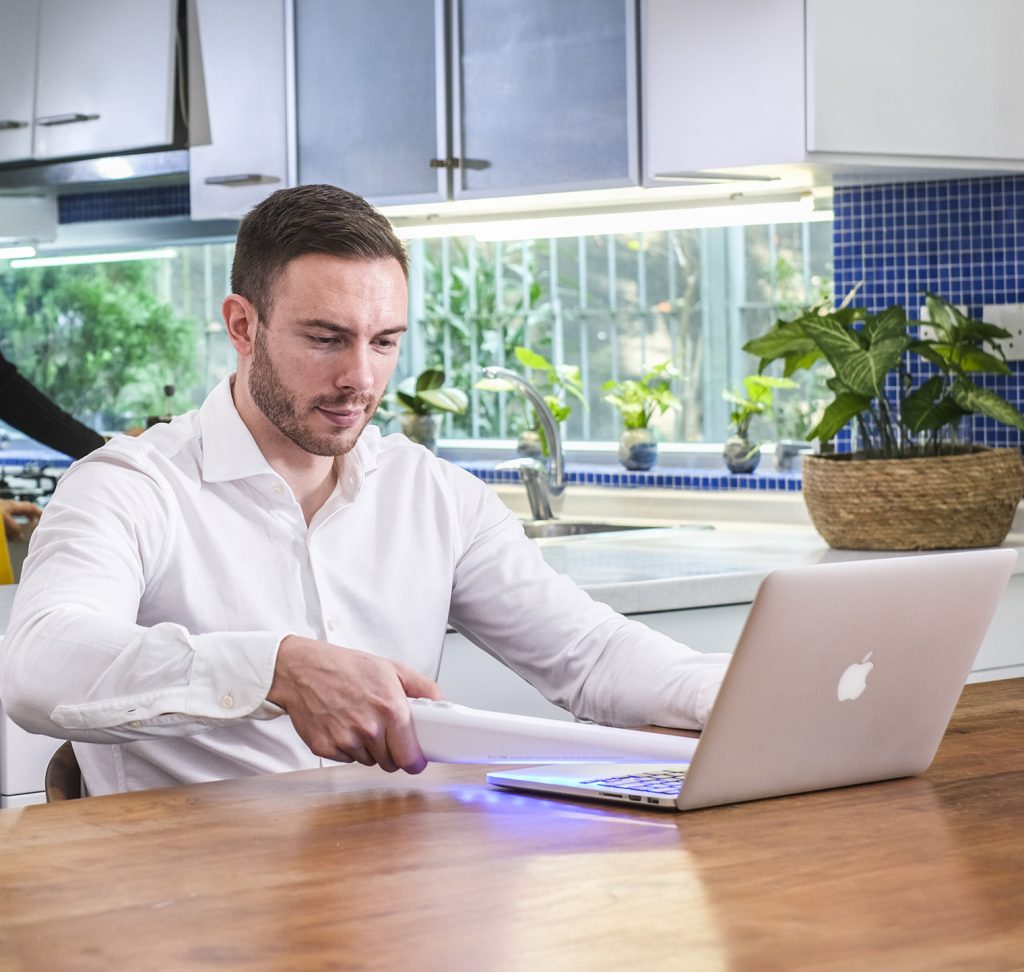 From a personal perspective, having spent more than 30 years in a career designing structural packaging and being involved in high-level innovation projects for some of the world's largest FMCG companies, it was interesting to be involved with a project that could change the norm and create a step-shift in creating new ways of delivering consumer practices both in the home and at work. I wonder how many other FMCG companies are bold enough to take those step changes in 'out of the box' innovative thinking in order to compete and survive in turbulent times?
At a glance: DeACT:
DeACT deploys the most advanced, powerful UVC LED technology
UVC effectively replaces the use of toxic disinfectants
The device has a broad sterilisation footprint to keep large surfaces germ-free
 Lab tested by SGS, the world's leading inspection, verification, testing and certification company
Found to kill 99.99 percent of germs in under 5 seconds and 99.99 percent of Coronavirus in under 3 seconds