Advanced automation technology from KNAPP is helping The Very Group fulfil customer orders in 30 minutes at its distribution facility in the East Midlands.
Launched on the day that the UK's first lockdown was announced in March 2020, the 850,000-square-foot Skygate distribution centre has secured a number of benefits for the online retailer and its customers – including greater product availability, quicker order to despatch times, faster returns and enhanced ability to handle peaks.
"A fast, seamless fulfilment operation is vital for great customer experience, and that's what we focused on when developing Skygate's highly automated technology," said Sean Hallows, Chief Operating Officer at The Very Group. "Throughout the pandemic, that technology has helped us to manage huge volumes of orders. It also enabled us to bring all of our clothing and footwear returns under one roof for the first time and means we're well positioned for future growth."
Despite a surge in orders during its first year as the pandemic fuelled demand for e-commerce, Skygate managed to deliver the performance required by Very. The automated picking, sortation and packaging technology from KNAPP means that orders can be ready for despatch within 30 minutes, compared to around four hours at Very's previous fulfilment centres. The fastest order to date was ready for despatch in just 17 minutes.
Operating 24/7, Skygate has processed more than 62 million items since its launch and has significant potential for future expansion. The efficiency of processes at the facility, combined with the consolidation of three sites into one fulfilment and returns centre, will contribute up to £25m in efficiency savings per year for The Very Group.
Designed for peaks
With Skygate responsible for the fulfilment of 95 percent of the Group's customer orders, KNAPP worked closely with Very to ensure that the automation would be able to handle peak volumes with the required speed and accuracy. The logistics technology enables the pre-picking of orders on high-traffic days, which has helped Very to cope with Christmas and Black Friday trading. Skygate processed an impressive 8.3m items in the 7 weeks to 24 December 2021, when Very's retail sales were 21.9 percent above the same period in 2019.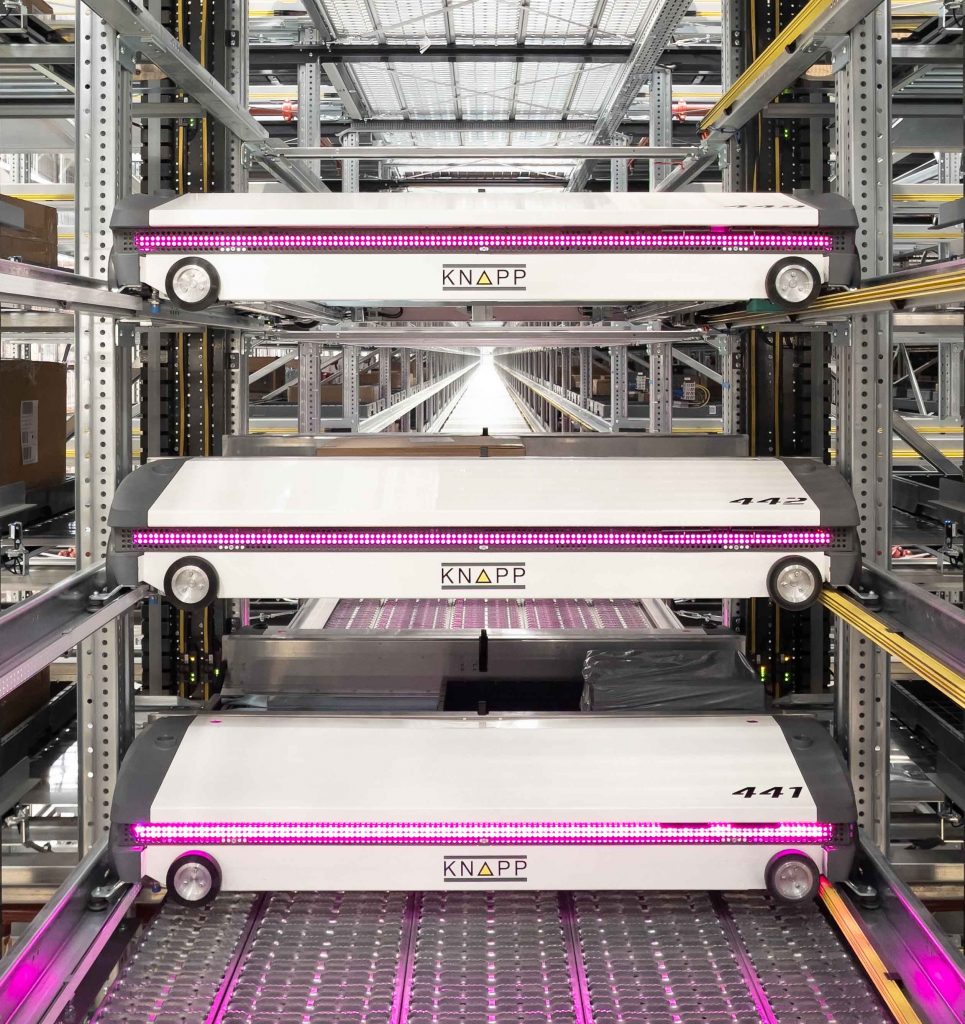 Sequencing is key
Key to both rapid order fulfilment and efficient returns processing at Skygate is KNAPP's EcoPocket system. This pocket sorter technology uses a matrix sortation algorithm to arrange products in RFID-enabled pockets into the correct sequence to fulfil customer orders at the packing stations. Products are supplied by KNAPP's OSR Shuttle™ Evo storage system. One of the largest shuttle systems in Europe, the automatic store features over 400 shuttles and provides almost 640,000 storage locations, helping to house Skygate's inventory of 6 million items.
One-touch returns handling
The automation also enables one-touch processing of 80,000 returns per day, with products available for resale within 30 minutes and customer refunds provided faster than ever before. Returns are prioritized, with two-thirds leaving the site within 24 hours and the overwhelming majority within 3 days.
Also featuring a despatch sorter with 96 destination chutes, the automated logistics solution is controlled by KNAPP's KiSoft suite of software for seamless integration. To ensure maximum system uptime, a 33-strong team of KNAPP Customer Service technicians is based permanently at Skygate, carrying out comprehensive preventive maintenance and dealing quickly with any issues that arise.