Thea Green revolutionised the beauty industry in Britain with her Nails.INC business. Now she's pushing boundaries through a series of pioneering, cross-brand collaborations that have left everyone yearning for more
"I started Nails.INC over 20 years ago as a response to the lack of easily accessible nail services in the UK. Getting a weekly manicure simply wasn't on people's radar at that time and I believe Nails.INC has really been instrumental in changing people's perception on something that was once considered a luxury to now being as necessary as a haircut. Creating a brand of nail colours and accessories that sat alongside those spa spaces across the UK seemed natural and savvy in producing a brand that stood the test of time.
Product wise we have always been known as an innovative brand. Several years ago, we brought 'polish in a can' to the market, we created scented polishes that dry down to a lasting fragrance and more recently, we brought Mani Markers to our customers, making nail art at home incredibly achievable. I think this is why collaborating with Nails.INC represents such an exciting prospect.
Collaborations have been part of the Nails.INC DNA for more than 20 years. Historically we have worked with brands such as Diet Coke and Glamour Magazine, and we were the first beauty brand to create a collection in collaboration with Victoria Beckham. These collaborations were back when we were largely retailed in the UK through our own retail salons and wholesale. Since that time, we have expanded to become a global brand. Collaborations are still very important to us, but they now have to make sense to that international customer and retail partners in spaces such as the US, Europe and UAE.
Our collaborations have also become far more sophisticated in recent years with the advances in terms of what is possible with polish without compromising on the high quality of our formulations. We have been able to take product collaboration to a whole new level, not only turning projects around at a super-fast pace, but bringing in new innovation to really bring a partner's product to life within a luxe beauty brand.
Our most recent collaborations started from a conversation with our US PR agency to work with Velveeta Cheese – not a brand usually affiliated with the beauty space, but one known for their arresting campaigns. This really signified the shift to a more international focus for Nails.INC. We worked with Kraft to create a cheese-scented nail polish duo with accompanying nail stickers. This was the epitome of a co-branded product, with both brands working tirelessly to bring the project to life, as Velveeta wanted to use this for promotion as much as we did (see top).
The result was a campaign that saw over a billion hits in coverage and our fastest-selling product to date.  In all honesty, it was surprising – whenever I have mentioned the product since and the words 'cheese-scented polish' it always raises an eyebrow.
We then worked with Magnum Ice Cream US to help promote their latest launch, a Duet Bar, to a US audience. This came to life with six chocolate-scented polish singles, a campaign with New York-based Japanese nail artist Mei Kawajiri, plus a customer activation across three states that saw co-branded pop up nail/ice cream dip bars coupled with an incredibly creative press mailer.  The reach was again incredible.
One of our collaborations that really sat significantly in the UK was working with something so very quintessentially British: Percy Pig. We have always had a strong relationship with Marks & Spencer and we had the idea to create a Percy Pig collaboration about the same time as their Brand Manager Sophie wanted to collaborate with us.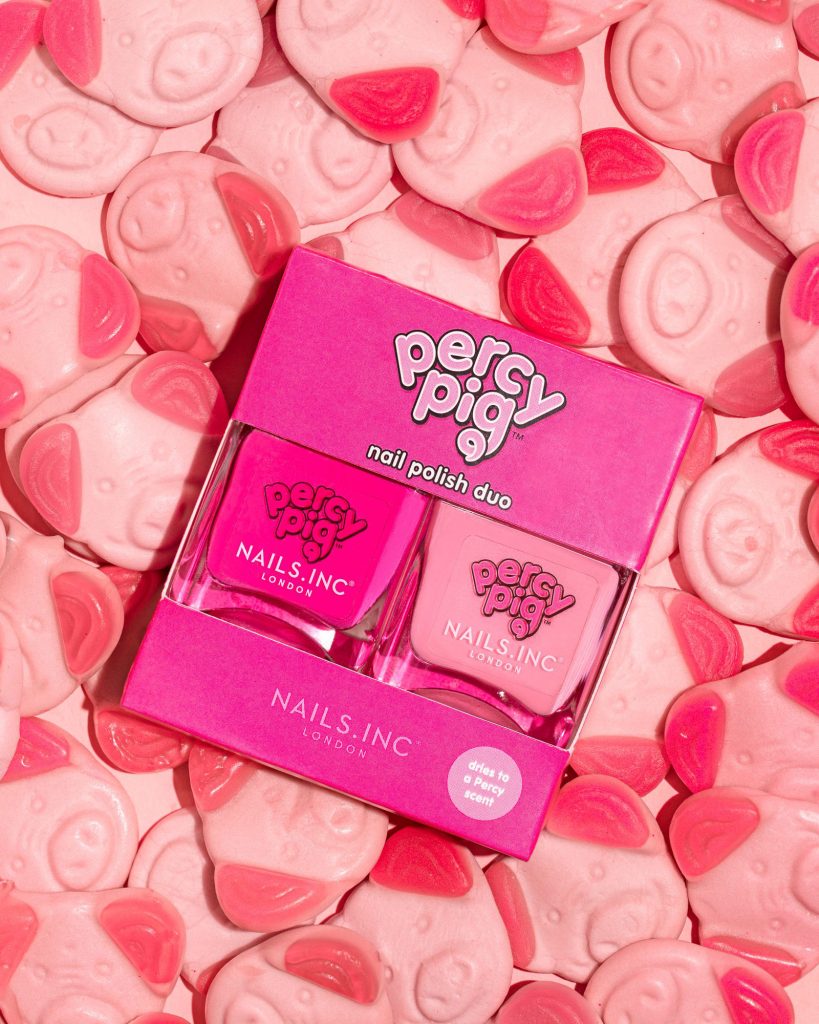 This is a great example of how quickly we can make things happen with the right partner – at the beginning of 2022 this product concept hadn't even been born, and by Q4, it was on the shelves for Christmas. The Percy Pig collab came to life as two Percy pink scented polishes – the product launched with a celebratory nail bar in the M&S Head Office and became a must-have Christmas gift for Percy fans. The really exciting thing about this partnership was that we were the first brand to collaborate with Percy and see a dual-branded product hit the shelves. Working with the M&S team was a dream and we definitely have something exciting launching this year again for Christmas with another much-loved M&S confection.
In 2022, we were approached by the agency Glue to work with their client Squishmallows – the soft toys that have taken over every toy store window globally.  For this we took a different creative; as scented polish wouldn't have made sense. Our target was a 19-25 year-old customer – a collector and avid fan, so we created a duo polish set with stickers.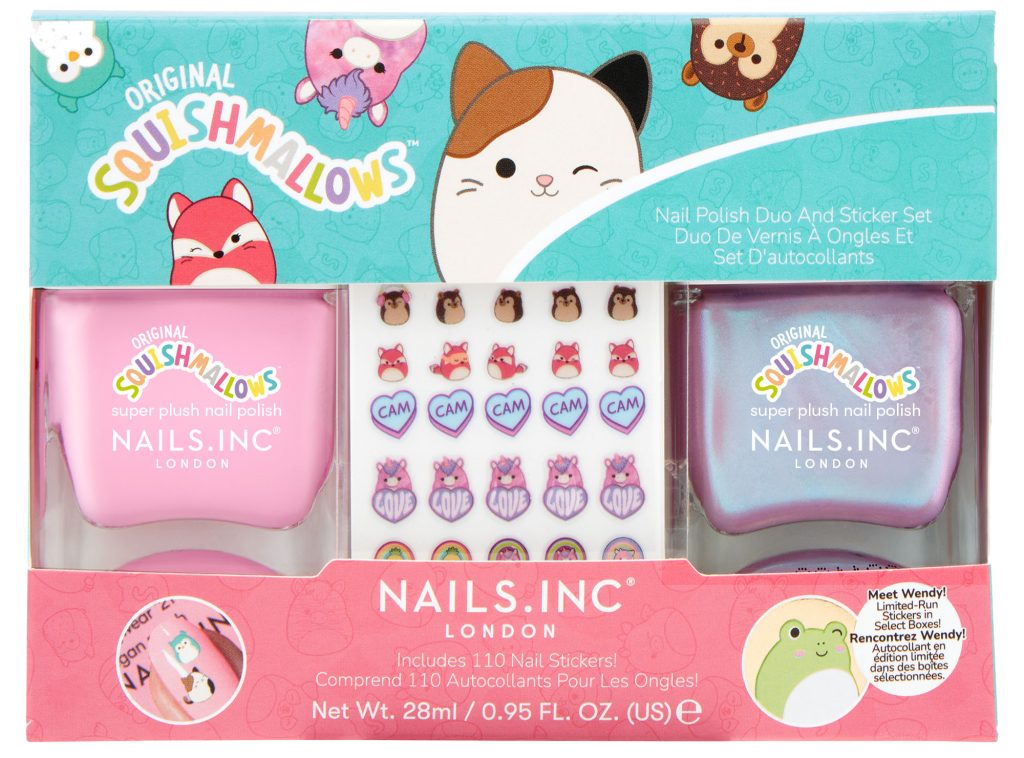 The stickers were designed with Squishmallows to showcase their most popular toys. We wanted to bring in the 'blind buy' element that has been so popular with toys in recent years, so in limited packs, there was a 'Wendy the Frog' sticker. Wendy the Frog is a particularly rare Squishmallows that has separate fan accounts across Instagram and TikTok. This promotion was quite different and saw us mainly reach out to influencers with fan accounts across social media.  The trick was being able to target the Squishmallows fan whist not being able to work on any dual content with Squishmallows as they have very strict rules about 'selling' to customers across their socials.
We also started a working relationship with Debra and her team at JLG who brought Froot Loops US to the table for us to collaborate with – to us, scented polish with neon shades made perfect sense. Working with JLG and the Kelloggs team was very new for us, as well as navigating the road of testing product for a secondary partner (obviously all of our products go through our own level of testing and stability).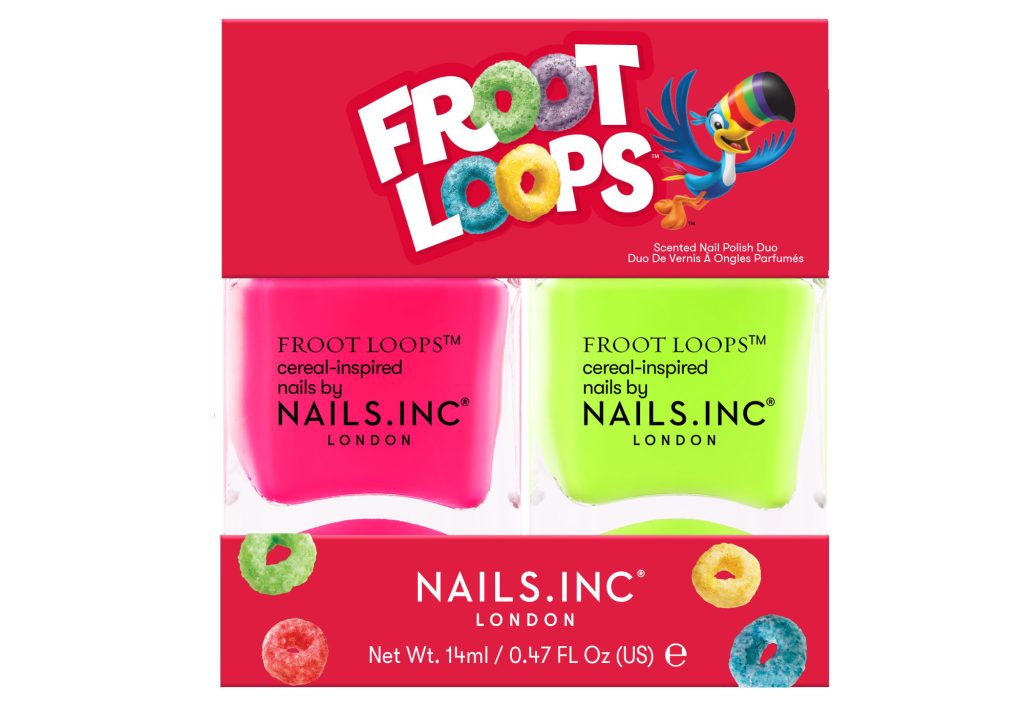 This collaboration really sparked with our retail partners and was taken by US retailers like RiteAid and HEB, as well as being a real focus within our nail bar in Selfridges, London.
We have some really exciting plans for 2024, with some collaborations already at the artwork approval /retail sell-in stage and others at contract or purely idea level. But it is something we definitely see as part of our strategy going forward.  This far we have created polishes under our Nails.INC brand, however we are also looking to put together collabs that make sense in the bath and body space for our sister brands INC.redible and Holler and Glow.  We are a small but robust team of passionate, creative beauty lovers.  We have an in-house PD team who are all scientifically trained as well as a creative team who put together everything from packaging to press materials and collab creative. It's a very exciting and buzzy space to work in and I think the whole team really gets to spread their creative wings when we put together collaboration pitches.
* Thea Green discussed Nails.INC's cross sector collaborations at Brand Licensing Europe, held recently at London's ExCel. Read more here