It's clear that every sector and industry has been presented with new challenges due to the Coronavirus pandemic. Whether it's meant adopting new working practices or being forced to close because of safety guidelines, it hasn't been an easy period for anyone.
The hospitality and entertainment industries have been two of the hardest-hit sectors after being forced to close for months on end, compounded by the fact that theatres are still unable to fully reopen and operate.
As government guidance has consistently evolved over the last few months, most businesses have been given the green light to reopen and begin trading again, including those in the hospitality sector, providing that their workplaces are Covid-secure.
Many venues have already introduced temperature checks and contact tracing, but now have to consider controlling their noise levels, after an amendment was made to the Health Protection (Coronavirus, Restrictions) (Obligations of Undertakings) (England) Regulations 2020, which has introduced a new Covid noise limit of 85dB(A) for any pre-recorded music played in cafes, bars, restaurants and hotels:
'A person responsible for carrying on a business of a public house, café, restaurant or bar (including a bar in a hotel or members' club) must, during the emergency period, ensure that no music is played on the premises which exceeds 85dB(A) when measured at the source of the music.'
Introducing the 'Way-Back' Pack from Cirrus Research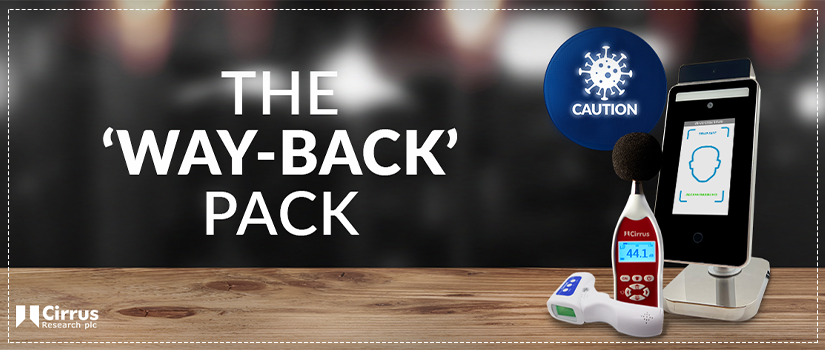 As our mission for the last 50 years has been to protect people's health and well-being in the workplace, it's only natural that we felt compelled to help businesses return to normal as safely and securely as they can.
Of course, it's easy for venues to control the volume of their music but knowing when the noise levels become too high isn't as easy. As noise measurement specialists, we're in a great position to be able to help businesses operate safely as we move forward.
We've introduced the 'Way-Back' Pack, which has been specifically created to help businesses reopen safely and make their way back from the period of lockdown. Our pack includes:
A simple sound level meter: keep an eye on the noise level with this incredibly simple-to-use sound level meter and reduce the risk of Covid-19 transmission via aerosols when people talk loudly
A noise-activated warning sign: get an immediate visual alert as to when the noise levels are too high, allowing you to take action to reduce the risk of virus transmission
A handheld infrared thermometer: test the temperature of your employees and your customers quickly and easily
An automated door access fever detection system: automatically grant or deny entry to people depending on their temperature and add an additional layer of security to your premises
This unique offering is available to purchase or hire as a complete package, or it can be customised to each business' specific needs, adding more of what is needed and less of what is not.
You can purchase your 'Way-Back' Pack today by visiting www.cirrusresearch.com/way-back-pack
T: 0845 230 2434