Renowned, third-party logistics provider Rhenus Warehousing Solutions UK offers tailor-made, specialist services to the FMCG sector
Third-party logistics (3PL) specialist Rhenus Warehousing Solutions UK is providing companies in the FMCG sector with dependable and sustainable logistics solutions, by offering comprehensive and efficient processes to support the high demands of the industry. Rhenus can take care of the supply chain from end to end, allowing FMCG customers to focus on their core business.
Rhenus Warehousing Solutions UK offers its high-quality services and expertise to all those in the FMCG sector, from confectionery and snacks to health and beauty.
The logistics service provider specialises in contract logistics and provides B2B and B2C warehousing, fulfilment and returns processing to multi-channel retailers and brands.
It utilises the latest emerging technologies to provide high volume pallet storage and distribution, agile and scalable bonded warehousing, value-added services and extensive returns management. Automation is also utilised to optimise tasks, improve accuracy and speed up operations to result in faster order fulfilment.
Rhenus Warehousing Solutions UK understands the unique challenges that the FMCG industry faces, such as consumables having a short product lifecycle, resulting in the need for warehousing that is efficient and has minimal margin for error.
The company was originally founded in 1990 under the name Core Management Logistics (CML), before being acquired by Rhenus in 2019 and becoming part of the Rhenus Group, a family-owned business which is one of the leading logistics specialists. Worldwide, the company has 1,120 business sites and 39,000 employees, as well as an annual turnover amounting to EUR 8.6 billion.
Globally, Rhenus Warehousing Solutions forms a comprehensive network with more than 180 locations in 23 countries, with a focus on innovation, sustainability and continuous process optimisation.
Over the past 30 years, Rhenus Warehousing Solutions UK has built up a foundation of expertise and worked with a multitude of high-profile brands, ensuring the company is a leader in the industry.
The logistics supplier prioritises sustainability in its work and is committed to having a positive impact on the environment. Recently, it received the 2023 UKWA (United Kingdom Warehousing Association) Award for Excellence in Sustainability, which showcases how Rhenus Warehousing Solutions UK is focused on energy efficiency, carbon reduction and implementing environmental initiatives. The 3PL was also one of three finalists in the CILT's (Chartered Institute of Logistics and Transport) 2023 Awards for Excellence in the Environmental Improvement category.
The company operates from warehouses at Magna Park in Lutterworth, Leicestershire and from a brand-new sustainable facility in Nuneaton, Warwickshire (below), known as the 'Rhenus Campus'.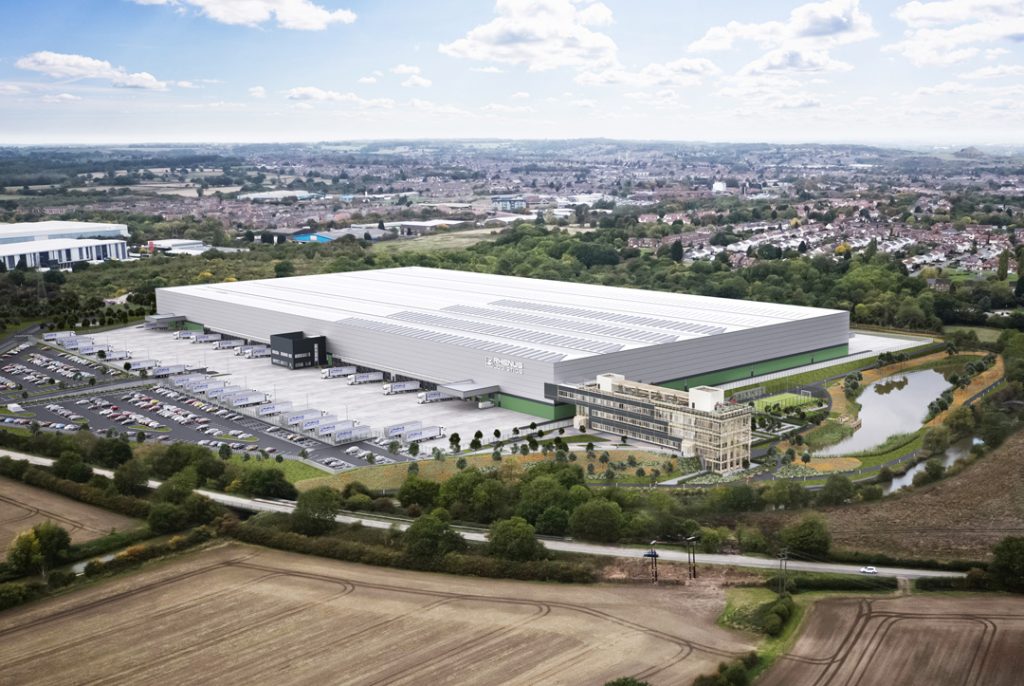 The campus is ideally situated in the heart of the 'Golden Logistics Triangle', a prime location nearby the M1, M69, M6 and M42, and home to two warehouses, including over 160,000 pallet locations and 130 dock doors, and measuring one million square feet in total across 64 acres. The vast size of the warehouses ensures Rhenus is able to store products whenever supply exceeds demand.
The 'Rhenus Campus' is certified "BREEAM Outstanding" and has been designed with reference to the UK Green Building Council (UKGBC) Framework Definition for Net Zero Carbon Buildings. Renewable energy is generated on site through solar panels and air source heat pumps, and electric car charging points are also being installed.
The site will also be home to extensive green spaces, a pond, wildflower grassland and meadow, and between 700 and 900 native trees which are being planted to encourage biodiversity and enhance existing woodland. Local wildlife is also being cared for, as hedgehog homes, bat and bird boxes and habitat boards made from recycled timber are all being installed, as well as an apiary for honey bees.
As part of its ethos, Rhenus has developed a tailored, human-led approach for its customers and offers constant support. By building strong, personalised relationships and forming a partnership with every client, the 3PL goes beyond the role of a service provider and becomes an integral part of each customers' supply chain, offering much more than just a 'paid-for service'.
Employees at Rhenus take pride in what they do and treat clients' products with the upmost care. Customers can feel reassured as Rhenus Warehousing Solutions UK has the ability to manage peak seasons and cope with many fluctuations in order volumes. The logistics provider also carries out perpetual inventory checks at its warehouses, whereas other 3PLs may close down for a certain period of time for regular inventory counting.
Kerry Delaney, Regional Director North-West Europe at Rhenus Warehousing Solutions UK, said: "We are very proud to be expanding in the FMCG sector, and are looking forward to forming lasting partnerships with many new customers. Our state-of-the-art 'Rhenus Campus' provides us with the perfect facility to cater to FMCG businesses and the unique challenges of the industry. At our campus, we are also reaching high sustainability standards and helping retailers reach their own environmental targets.
"At Rhenus Warehousing Solutions UK, we are on hand to provide FMCG retailers with all our specialist knowledge and support, and ensure that their operations run as smoothly as possible. In a sector as fast-paced as FMCG, staying on top of orders and becoming the retailer of choice is essential, and at Rhenus we are here to help brands achieve just that."
For more information on Rhenus Warehousing Solutions UK and to find out how the logistics specialist can help your business, email warehousing.enquiries@uk.rhenus.com or visit https://www.rhenus.group/uk.
About Rhenus Warehousing Solutions
Rhenus is one of the pioneers in warehouse logistics and forms a comprehensive global network with more than 180 locations in 23 countries and 4.0 million square metres of warehouse space. Specialised in numerous industries, Rhenus customers benefit from tailor-made warehousing solutions and fulfilment services. At multi-user locations and for dedicated and in-house solutions, the focus is on innovation, sustainability and continuous process optimisation.
About Rhenus
The Rhenus Group is one of the leading logistics specialists with global business operations and annual turnover amounting to EUR 8.6 billion. 39,000 employees work at 1,120 business sites and develop innovative solutions along the complete supply chain. Whether providing transport, warehousing, customs clearance or value-added services, the family-owned business pools its operations in various business units where the needs of customers are the major focus at all times.