Barry Twigg explains why Blue Planet II is inadvertently adding to the global warming issue
I believe it all started in October 2015 with the introduction, by the UK Government, of the Plastic Bag Tax. Then in October 2017 along came the BBC and Sir David Attenborough with Blue Planet II featuring a scuba diver slowly making his way through a sea of floating plastic. At that moment "Plastic Paranoia" was born. Since then, week after week, global media has featured the perils of plastic and its adverse impact on our environment.
The BBC has been at the forefront of this 'war on plastic', even running a six-part prime time TV series under the same name to emphasise all the negative aspects of plastics in all its many daily uses.
Yet the BBC and Blue Planet II have possibly done more to increase Global Warming than any other TV programme before or since. Why? Well consider the following: In January the Green Alliance issued a report which said that companies changing their packaging materials from plastic are likely to be detrimental to the environment. Similarly, last year's Governments Environmental Audit Committee said the "War on Plastic" driving change from plastic to paper, glass or aluminium risks more CO2 pollution due to the energy used in the manufacturing of these materials, allied to the extra lorry movements in their transportation.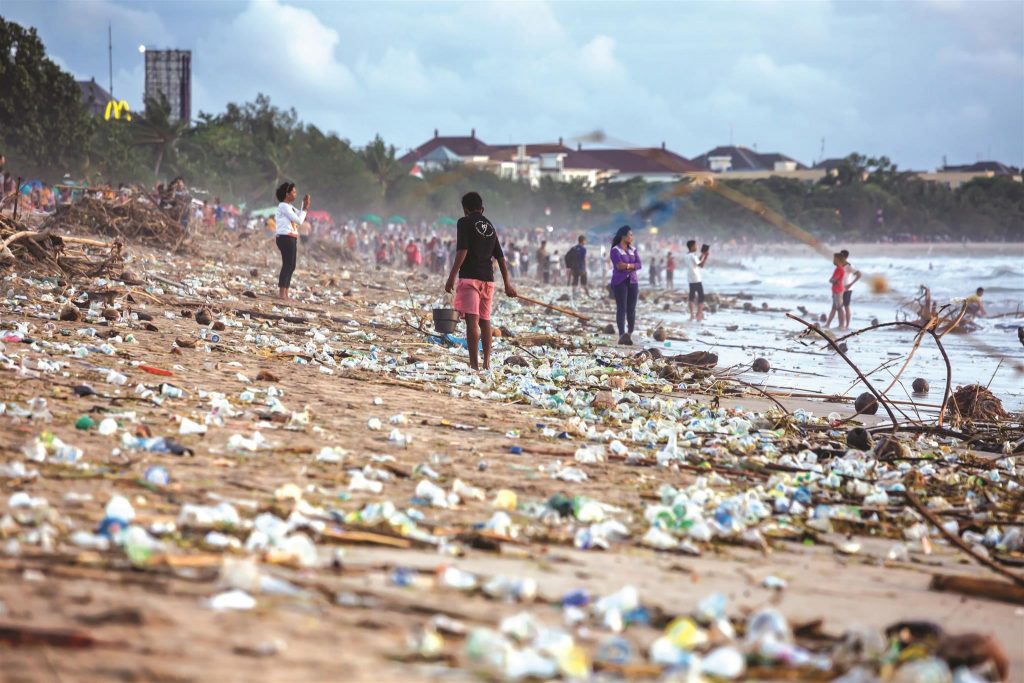 Global Warming or Plastic replacement: which is it to be?
And here's the dilemma. On one hand environmentalists are clear that the biggest environmental threat facing the Earth today is Global Warming, but on the other hand don't recognise that changing plastic to any other material simply increases CO2 emissions adding to the problem. But will swapping plastic really make much difference? Take UK supermarkets. Morrisons are now supplying millions of paper bags, Aldi and Iceland are heading the same way, whilst the Co-op has chosen compostable bags. These companies are now inadvertently generating tens of thousands of extra tonnes of CO2 just in paper and compostable film manufacture plus the extra transport. Meanwhile, not a week passes without one of the corporate giants like PepsiCo, Nestlé or Budweiser proudly announcing their transition from a plastic pack to one creating more CO2, more lorries on the road and more packaging waste.
But what about the Oceans?
David Attenborough said: "Plastic is polluting every corner of our planet. It's choking our oceans and rivers". This is not true. Blue Planet II took four years and 4,000 hours to film with not a single piece of plastic in sight until the final episode. Whilst it was horrific to see, the BBC didn't tell us where the plastic pollution sequence was filmed but it was probably somewhere near the South China Sea, where neighboring countries use it as a dumping ground for their domestic waste. If India is added, these countries are responsible for approximately 85 per cent of plastic waste in the world's oceans from just 10 rivers. Combined, Europe and the USA are calculated at less than 2 per cent in total.
So, it's not correct to state we are choking the world's oceans. Why didn't the BBC and Sir David make that clear? They blamed plastic – but not the countries who put it there.
In summary
We do need to reduce our use of plastic or indeed remove packaging wherever possible – but not just plastic packaging. National Flexible has provided customers with free packaging reduction audits for many years (just ask). But, as indicated, replacing plastic with alternative materials simply adds to climate change and replacing plastic packaging will probably, in addition to increasing Global Warming, add to the 10 million tonnes of food waste we generate in the UK every year.