With living costs skyrocketing and consumers feeling the pinch, brands must look beyond pricing to unlock creative opportunities, writes Ainhoa Robles
In the face of the cost-of-living crisis, FMCG brands are under pressure from all sides. With the price of doing business rocketing, brands must mitigate increasing brand promiscuity. According to McKinsey's latest Consumer Pulse Study, people are already looking for cheaper options, and rising costs are among the main current concerns to Europeans.
The obvious response is to look at pricing and sizing, stripping out unnecessary SKUs, combining user groups and so on. But while that's the first tool in the armoury, this is also a time to unlock creative opportunities.
Be aware of nuanced behaviour
The best starting point from which to explore such creative opportunities is to realise that people's behaviours are incredibly nuanced. Yes, in times of financial crisis, headlines talk about brand promiscuity, and we can expect people to buy smaller quantities, delay purchases and trade down (turning to private labels, discounters or more affordable brands).
But shoppers' responses to the rising cost of living are on a huge spectrum and the assumption that they will immediately look for cheaper options is an oversimplification. Beyond deal-seeking, research shows that shoppers are also reading product labels, verifying product claims and looking for evidence of sustainable practices, for example.
So, brands need to make sure they constantly strive to offer value, and this is especially key for brands who can't – and shouldn't – get caught up in price wars. Most attempts to communicate budget-savvy brand concepts, from ads to packaging, play on paring back – signalling a downgrading of sorts. Why not be more creative about offering value?
Priorities and focus 
There are different ways in which you can give value to your users without being as one-dimensional as lowering prices or relying on the classic mega-packs.
Successful brands will find the sweet spot between delivering "smart" savings and added value combined with personalisation and richness of experience. Subscription and loyalty schemes are great examples of countering rising brand promiscuity during hard times, as they offer control, delight and even a sense of community. People get a service with comforting predictability of deliveries and perceived generosity through lower prices. They also nurture a sense of belonging.
The new cohort of D2C household goods or personal care products, such as SMOL, The Bower Collective or WILD are forging loyal customers through this approach – something larger FMCG owners can draw inspiration from.
Some brands go further still, steering people to brand-relevant, healthy behaviours with gamified tools that nudge towards personal improvement.
Recognising the importance of equitable brand engagement, companies (especially in fashion, beauty, food and beverage) are rewarding customers for conscious consumption, and it is a leaf that FMCGs should take out of their book. Examples of such enhanced loyalty schemes allow people to convert points into charity donations, enabling them to track their carbon-busting.
British supermarket Asda's first ever loyalty programme app (launched October 2021) sees shoppers build up 'cash pot' rewards to get discounts. Gleaning people's data while nudging them towards more positive behaviours, it includes gamification elements like in-app missions; for example, buying five fruits and vegetables for a five-a-day badge and more rewards.
Be transparent 
The way brands speak to people also needs to be smarter, especially since price hikes are becoming inevitable. The cost of raw materials, energy and transport are all going up – which will ultimately be borne by customers to some extent. However, if brands can keep people in the loop by being transparent about rising prices, they could earn long-term loyalty.
Beauty brand Deciem did just this. In the face of rising prices, the brand took to social media, highlighting the challenges it was facing and the need to compensate employees as the cost of living rose. And it gave people two weeks' notice, giving them the chance to stock up before any price changes came in.
Use all channels
Other creative opportunities lie in exploring new service offerings and having more meaningful conversations with users. There are so many different channels these days with multiple touchpoints – brands should be using every single one of them to engage with people.
Connected packaging, social media, D2C, ecommerce – these are all channels that can be used to let people know a little bit more about what their brands stand for. Part of the reason people take products home is because they can see that the brand's values correlate with theirs.
The connected Yeo Valley experience is a good example. The brand recently deployed more than 115 SKU-level QR codes across millions of products to boost brand engagement, loyalty and data.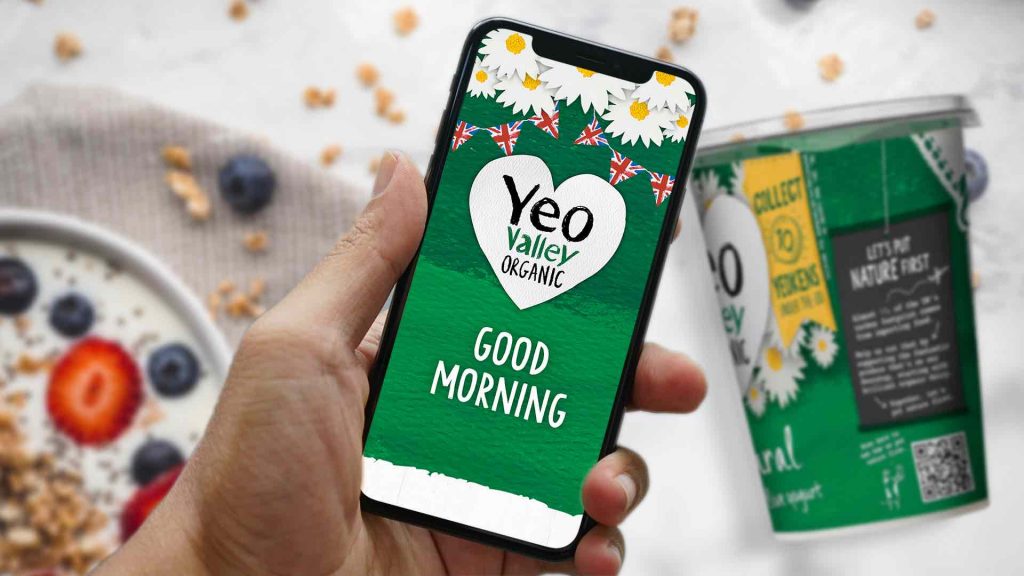 By scanning the QR code with a smartphone, content is delivered directly to users. It includes recipes, eco-information on the brand and the specific product, plus details on how to recycle it. The connected experience is seamlessly integrated with Yeo Valley's loyalty programme, with each product given a unique "Yeoken" token, which can then be redeemed by the user.
More focus on messaging and meaning
Consumer stress has been at an all-time high in recent months, with everything from social restrictions to financial upheavals having an impact on most people. So brands that help alleviate that stress – whether through emotional, financial, or recreational means – will be rewarded.
To leverage multiple channels in this way, brands need to identify and convey the unique benefit of their products and what makes them stand out beyond the product. And much of that comes down to communication and leaning into their wider purpose.
Our very own Vanish recently partnered with the British Fashion Council (BFC) to create a documentary series shining a light on sustainable fashion. Generation Rewear runs across Amazon properties and addresses excessive consumption of clothing and the culture of extreme disposability at its heart. It celebrates the innovative designers, companies and ordinary people seeking to reduce fashion's impact on the environment.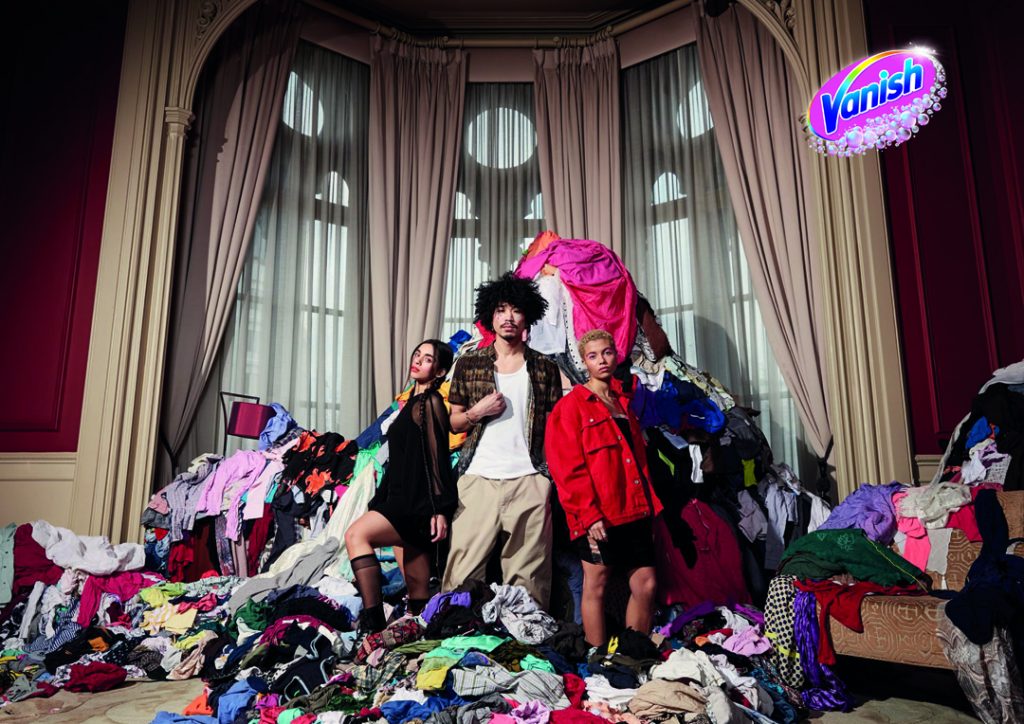 Finish's partnership with National Geographic is also a great example. The Skip the Rinse campaign has helped inform users on why water wastage is a problem and how we can all make small changes in our daily lives to help address the issue, asking people to 'take the pledge', to stop pre-rinsing their dishes. For every pledge taken, Finish contributes $1 to The Nature Conservancy, which works to 'conserve the lands and water on which all life depends'.
A new documentary on the campaign has also premiered on the National Geographic channel in the coming months. So far, the campaign has managed to save over 5,600,000 gallons of water.
Time for brave fresh thinking and agility
When it comes to responding to new creative opportunities, challenger brands do this particularly well. It is part of their DNA – changing, flexing and pivoting in short spaces of time. For some large FMCG owners, such an approach can still feel alien, with many having relied for so long on the retail store alone.
Yet a more agile approach will be crucial for brands that want to be competitive in the future. A brave brand owner trials and tests, finding out what works and what can be used as benchmarks for future success. If they want to weave affordability in with ethical design, wellness attributes and bolster people's confidence and trust by bringing new service models and enhanced value to the conversation, smart brands need to be more nimble.
The focus on digital and service led value propositions, accelerated by the pandemic, is a reality, and brands must be able to change their processes and operation models to accommodate that growing part of their business, redefining their models to enable holistic, agile fresh, human centric, creative thinking, covering every touchpoint to enhance and build connections with people.
Only then will brands rise to these creative opportunities, building more nuanced, valuable and rewarding relationships with people that can endure the cost-of-living crisis.