We are honoured to announce that Stoelzle Glass Group has been awarded GOLD status by the renowned ECOVADIS platform.
This is an important recognition of our steadily increasing efforts and measures undertaken in the field of sustainability over the past years.
According to the strict Ecovadis Methodology, which is based on international sustainability standards such as Global Reporting Initiative, United Nations Global Compact, and ISO 26000, Stoelzle Glass Group ranks within the top 4 percent of all Glass Manufacturers assessed by Ecovadis.
"We are proud about our promotion to the Ecovadis Gold status. This remarkable rating results clearly from our success in reaching a couple of important sustainability milestones, such as the certification according to ISO5001 and ISO14001, the publication of our 2nd GRI based Sustainability Report, our Group-wide Code of Conduct, as well as the successful implementation of a Sustainable Supply Chain Management," said Georg Feith, CEO of the Glass Group.
Stoelzle Glass Group is one of the most engaged and most advanced glass manufacturers in CSR among the 60,000 companies from all branches assessed by EcoVadis worldwide. We constantly strive to improve our processes, technologies and machines in order to contribute significantly to reach the European Green Deal goal to be climate neutral. In this respect, Stoelzle takes also part in the Furnace of the Future Project: Together with several European Glass Plants we work on the development of a high-capacity hybrid electric furnace, which will be able to reduce furnace emissions by 60 percent and use 80 percent of electricity from renewable sources, replacing combustion of natural gas.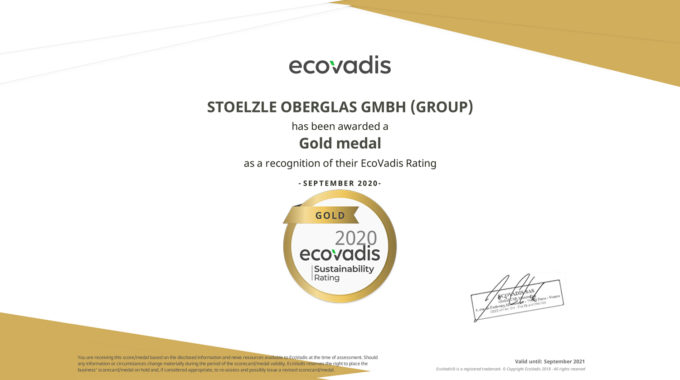 In addition to all these eco-friendly initiatives, Stoelzle sets also great score on labor & human rights, and has committed themselves to embed firmly their ambitious Code of Conduct, valid for all their employees, and the whole Supply Chain, too, in their company culture.
To learn more about Our Sustainable Way, please read our Sustainability Report.
Stoelzle Glass Group consist of six European production sites and three decoration facilities and is known for their excellence in design, production and decoration. Customized packaging solutions, as well as a broad range of standard bottles are available for all types of pharmaceutical and healthcare products, perfumes, fragrances and cosmetic products, food and beverages, and spirits.