Sarah Dear takes us behind the scenes as her agency set out to change perceptions of an iconic, 18th century cheese that's been suffering recent image issues
Cheese is for life, not just for Christmas.
Lots of us enjoy it all year round, from quick snacks to soirées. But a majority of consumers were leaving Stilton on the shelf, with up to 60 per cent of all annual sales tallied in November and December.
What's more, revenues suffered during the pandemic with almost a third of Stilton orders wiped out: a 14 percent decline in total sales over five years. The popularity of this unique cheese seemed to be curdling.
Anecdotally, younger consumers claimed to dislike what they perceived to be the "sweaty" smell and strong, salty taste of Stilton. Data also showed the typical buyer was aged over 55 and likely to buy it just three times a year.
This combination of factors was leaving Stilton in a bit of a pickle. How could sales be boosted so that it took a bigger wedge of the UK's £6bn-revenue cheese market?
Blessed are the cheesemakers
If you know your cheese, you'll understand how scientific, intricate and painstaking the process of making Stilton is. Unlike some mass-manufactured types that fly off the production line – most notably some Cheddars – there's an artistry and craft about making Stilton that harks back to a bygone era.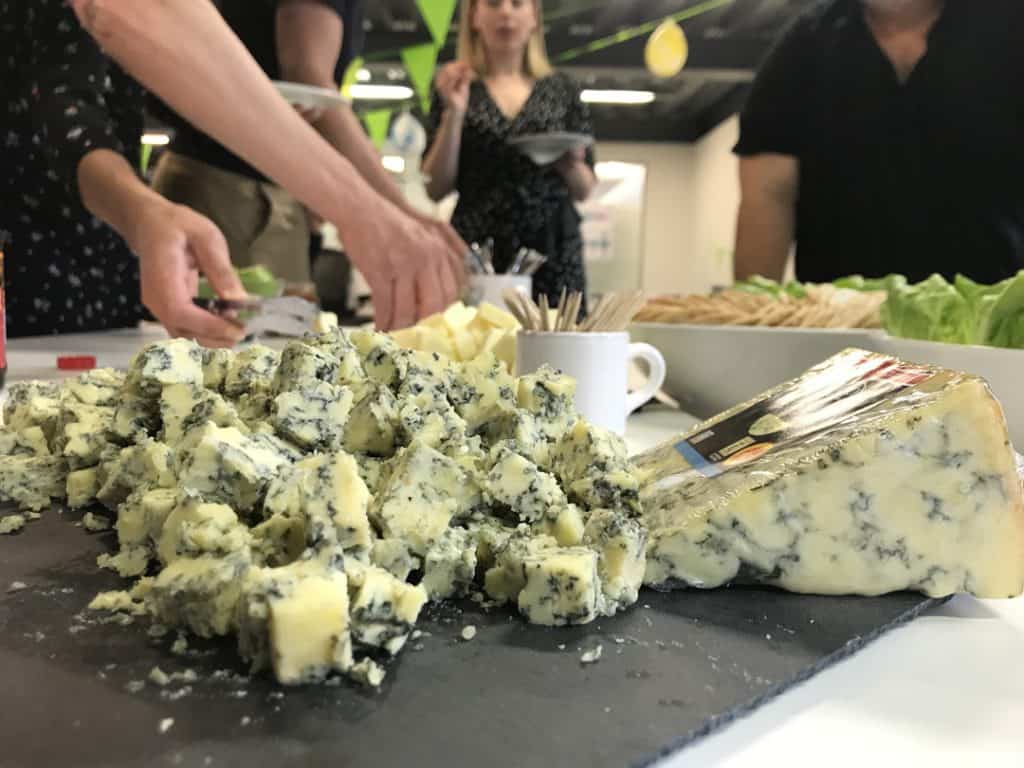 In fact, Stilton is believed to have first been produced in the 18th century, with a reference dated 1722 appearing in antiquarian William Stukeley's 'journal of curiosity'.
Fast-forward three hundred years and many of the same techniques are used to make it. Chief among these is patience. If you're looking for a quick production process, don't make Stilton for a living. These huge 8kg wheels of cheese can take around three months to make, with constant temperature monitoring and adjustment, and much physical hand turning once made that you don't get with simpler types of cheese.
It's a classic example of the hidden magic that goes on behind the curtain in many instances of food production today. So, when the leading Stilton brand approached us to help boost sales, we wanted consumers to understand the effort, art and science that goes into every pack and, crucially, why they should reconsider the cheese as a 'week in, week out' purchase rather than simply a festive tradition.
In search of adventurous foodies
Stilton production is located in three counties; Leicestershire, Derbyshire and Nottinghamshire – using British milk from cows who pasture in these three counties alone. In the case of Long Clawson, our client, it's believed a group of dairy farmers each had their own recipe before deciding on a favourite and forming a co-operative to bring their creation to the masses in 1912.
The brand we are talking about is 1912, the artisan, award-winning stilton from the Long Clawson Dairy – named for the year of the cheese co-operative launch. The team behind it knew Stilton had an image problem, and that sales were going off. And that their artisan Stilton wasn't being presented as the premium product it was.
We needed an insight that would persuade consumers it was time to consider the product for a far wider range of occasions and mealtimes than the Christmas cheeseboard alone.
First came our farm and dairy production visit. It was there that we learned the amazing artisan process of Stilton production, and all of the effort and expertise that ensures 1912 gets put in the chiller as a quality item. It was clear this craft was not represented by the existing, film-wrapped, dour wedge as seen in the supermarket.
To change perceptions and get the brand into more baskets we needed an idea that spoke to this heady mix of science, art and love, giving consumers a flavour of what recipes Stilton could be used in, and for all of the occasions where it can be wheeled out.
To do that, we also needed to extend intrigue about the product to a new audience – and that meant inspiring a younger demographic.
We found them through consumer research and building a new customer profile, based on understanding attitudes towards the cheese category overall, and Stilton in particular.
We spoke to them about and identified a market segment that we called: 'adventurous foodies' – and these can be people of any age by the way!
They're the people who love to try new things – whether those recipes, concoctions and flavours end up being to their taste or not – and like to do so in multiple settings.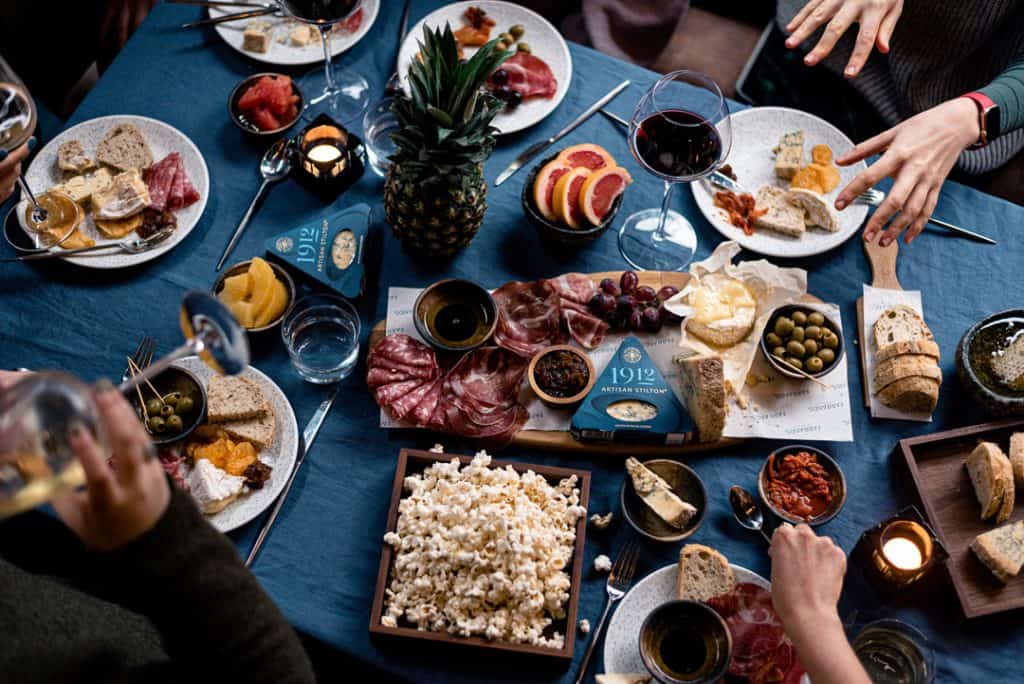 As an experiment, we invited people to attend an event designed to explore as many uses of 1912 as possible. We hosted an innovative chef for the afternoon to mix Stilton with a wide palate of ingredients, from wasabi to sriracha and honey to horse radish.
This introduced us all to the creamy and mellow flavour of Stilton, rather than the clichéd sharp, acquired taste many may have had in mind. The riot of flavours went down a treat, and the adventurous foodie concept was born.
Rebranding to make stilton the hero
With the new consumer profile in our pocket – not, of course, forgetting about the existing and critically important current customer base – we set about making the brand stand out in-store.
That meant reviewing and making changes to its very functional packaging, which would have failed to differentiate 1912 fully as a product that should be tried not just ahead of other Stiltons, but also brands from across the wider cheese category.
This led on to reimagining the 1912 brand. We wanted to showcase the chemistry behind the cheese, the fusion of temperature and time, along with imagery of landscapes from the locations where Stilton originates.
We also designed a new pack format, a triangular cardboard wedge that allowed us to do more on the outside and inside of the packaging while still ensuring the brand stood out in supermarket aisles.
Now, when a shopper opens the box, they'll discover serving ideas, recipe inspiration and more on the notes which are uncovered by unveiling each layer of the pack; just as many layers of expertise combine to make the cheese.
What's more, if people keep the product in the box they are more likely to see it and finish it than they would if it is wrapped in cling film, forgotten and ultimately wasted.  And online, Marco Pierre White has created a wealth of exciting recipes to bring stilton into our everyday and special occasion meal-time repertoires, so there's no excuse for not eating it all up!
Being bold and creating an authentic brand in a commodity category, no matter how long its heritage or position in the market, can be the best way to give consumers a fresh perception of your product. As long as it's based on an insight and an idea. After all, Stilton's revival is not to be sniffed at.
Sarah Dear is the CEO of Born Ugly