Adam Kingl demonstrates how art and imagery can serve as the ultimate catalyst for creativity in a global FMCG business
We may think of creativity as a product of a lifetime of cultivation and therefore is too unwieldy to introduce into the boardroom.  However, in my research, I discovered that creativity is something we're born with and then develop or repress throughout our lifetimes.  But we can always rediscover it.  It's odd that some people say, 'I'm not creative,' when put outside their comfort zone.  We need to demystify creativity since it's a natural state.  Artist and executive facilitator Peter Moolan-Feroze says: 'There's a joy in not having to be an expert and in rediscovering that. For business professionals, this is often about renewal and reframing how one sees oneself in order to return to creativity.'  Helping the busy executive to do this through the medium of art is to help them move their perspectives and preferences further to the right along several spectra:
Words                         –                  Images
Introspection                  –                   Empathy
Adult                    –               Child
Observation                  –                  Intuition
Replicate                     –                  Explore
What holds us back from moving to the right?  Peter points out that we tend to overweigh experience: 'Expertise locks us in, our ego rises and makes us fearful of stepping outside of that state.  Expertise is important, but genuine creativity might include putting oneself in the shoes of the beginner.  That can be scary and is a primary reason we don't innovate, so we can unlock that fear by using art to explore different parts of the self which are not so judgemental, where there is comfort in being wrong, or perhaps we could say comfort in pivoting from 'impossible' to 'not impossible'.  That requires the right environment where creativity can reflow.  As Evan Williams, co-founder, former chairman and CEO of Twitter said: 'I definitely think people can learn how to be creative, but I think for the most part people unlearn how to do it.'  To create the right environment to help with this very challenge, Moolan-Feroze works with companies and executive education groups at business schools to facilitate playful exercises that tease out the participants' perceptions of their realities and sometimes of themselves.
For example, executives spend a lot of time trying to get better at leading change since their companies are in a constant state of flux. So Peter leads an exercise that helps senior managers reveal how and what they think about change itself.  In this exercise, Peter asks them to draw a white coffee cup that he places at the front of the room.  Next to the drawing, he encourages the group to write or draw their feelings and observations about the cup, then write a poem to a child about the cup.  Then Peter asks his group to draw the cup again through the lens of the poem they've just composed.  Now the participants are not just drawing the cup but their feelings and perceptions as they evolved throughout their poems.  They have to reach for a higher understanding of their own philosophy about transformation.  On one programme, an executive threw down his pastels exclaiming: 'This is ridiculous, a waste of time!'  He was struggling to express himself outside of relying on traditional expertise.  While this man didn't see the point of the exercise on that day, a year later Peter received an email from the executive saying he'd taken a cup home and put it on his mantlepiece to remind him to be more openminded.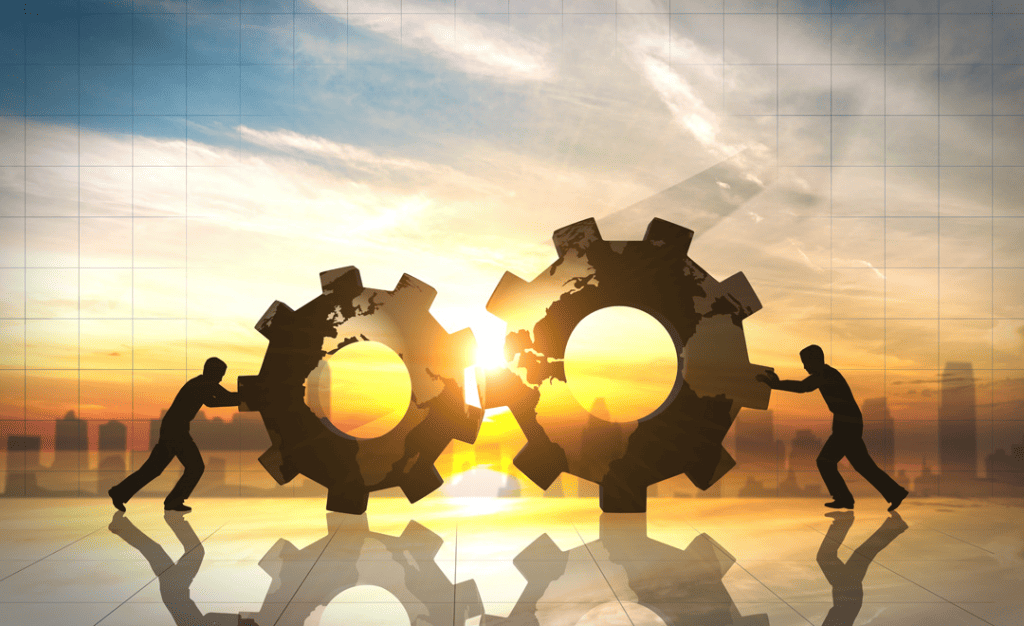 SYMBOLS IN SUNTORY
The more we look, the more examples we can find where visual art and imagery helped to move an organisation's perceptions forward.  Consider the case study of Suntory Holdings, the global beverage company. I was directing Suntory's Beyond Borders programme, an annual corporate executive development initiative in collaboration with London Business School.
The project allows its senior leaders to build a global network to accelerate the development of cross enterprise leadership capabilities across the organisation.
One of its participants, Carol Robert, who is now the Chief Operating Officer of Suntory Beverage and Food for Great Britain and Ireland, recalls: 'We had such a rich experience through diverse learning and connections. We were discussing breakthrough leadership and innovative mindsets with Professor Gary Hamel in one session, and afterward we brainstormed and came up with the idea of creating an iconic and symbolic visual reference to the programme that we as the "founding" group could use as a legacy for and reminder of the course.  Suntory had historically given a lapel pin to only the most senior members of the company once they reached a certain level and normally only if they also attended the annual conference with the top leadership.  We thought that we could create an equally symbolic pin that was a clear demonstration of being an emerging future global leader.'
One proposal for the pin was in the shape of a katana, the samurai's sword of feudal Japan, symbolising the group's commitment to 'cut' bureaucracy.  Their session with Hamel discussed how bureaucracy in all its forms – a multi-layered organizational design, too many permissions required to try something new, difficulty getting a little bit of resource to run an experiment – can shrink a company's capacity for innovation and adaptability.  If those two competencies were the hallmarks of Suntory's original success and the precursors to its future competitiveness, then the leadership community had to banish bureaucracy.  Of course, this katana symbol did not communicate the entire plan, but it would serve as a daily reminder among the company's senior leaders of their substantial objective to refresh the corporate culture.
Another proposal acknowledged that there were so many other valuable lessons on the programme, and each alum, coming from so many different functions and countries, would prioritise a theme that was most relevant for their context.  The pin in this case would need to remind the individual about the programme, but they could personalise what they take from the memory. The design of this pin used the globe image within the branding of the Beyond Borders programme to emphasise the distinct, international nature of the group.
Carol remembers being given this pin at the next Suntory global leaders' conference: 'Indeed a small group of attendees wore this pin instead of the Suntory pin, which created quite some attention and got people talking.  At this conference, we were seen to be somehow unique and elite given only a small number had this different pin.'
In addition to the pin's enhancing the participants' profile within the company, it importantly helped them to remember the behaviours and habits they committed to despite the hurly burly of the day-to-day back in the office.
ART AS METAPHOR
Another corporate example of using art as a metaphor to embrace new ways to think about how one contributes value comes from Quest International, which produced flavours and scents for consumer brands before its acquisition by Givaudan.  The oral care division within Quest asked Peter Moolan-Feroze to help them explore the concept of their and their products' essence through graphic art.  After workshopping with Peter, the team ultimately used the style of painter Mark Rothko as an inspirational metaphor for how they might draw their company essence or DNA.  After this exercise, the team rebranded itself 'Cool Blue River' and within a year or so was one of the most profitable teams in the company. Their department head transformed the offer by saying: 'When we visit clients, we are not selling flavours or fragrances but essences – creative ideas in our clients' contexts.'  Part of that offer included helping their clients shift their own creativity and reveal their brands in a new light.  Quest was a hundred-year-old company, and one could easily assume they knew their purpose or reason for being. But using art and metaphor, looking at themselves through the lens or identity of Rothko, helped the oral care division to expand their vision of what they were about rather than rest complacently on their laurels.
Much of how we have observed art in business is in relation to rediscovering play and curiosity that is every child's normal state.  The rediscovery of that state reveals a new openness to change because it's an adventure rather than a trial.  If leaders and bellwethers embrace this openness, then their organisations too increase their capability for transformation, innovation and inspiration.  In his poem Little Gidding, T.S. Eliot mused: 'The end of all our exploring will be to arrive where we started and know the place for the first time.'  The last time in human history that the worlds of art and commerce naturally intertwined regularly and synergistically was in the Renaissance, that revolutionary time of human invention. Today, leaders' ability to spark success will be correlated to their willingness to rediscover lost aspects of their nature, as if from under an old and beloved rock in the garden, and remember their proficiency as creative prodigies.
Sparking Success: Why Every Leader Needs to Develop a Creative Mindset by Adam Kingl (www.adamkingl.com) is published by Kogan Page and priced £12.99.