When we talk about logistics, it's easy to focus on simply transporting an item from A to B. However, transporting it safely and choosing the correct product protection and packaging to ensure smooth travel and delivery, is just as important, and very much part of the strategy.
It's also not just about the safety and protection of the contents of course, it's about the life cycle of the packaging itself, including waste reduction and recycling. Sustainability is a complex topic but there are ways to simplify it when applied to safely transporting goods. It's time to focus on the circular economy and close the door on packaging waste whilst ensuring that goods are delivered safely.
PROTECTION & PRICE
The right packaging allows you to transport your goods most conveniently and helps to ensure that your items arrive undamaged at their end location, saving you time and money.
Damaged goods can also affect relationships and reputation by upsetting customers and retailers. So, to keep contents safe, they must be packaged efficiently. Many void fillers are available to offer product protection and can also protect the planet too.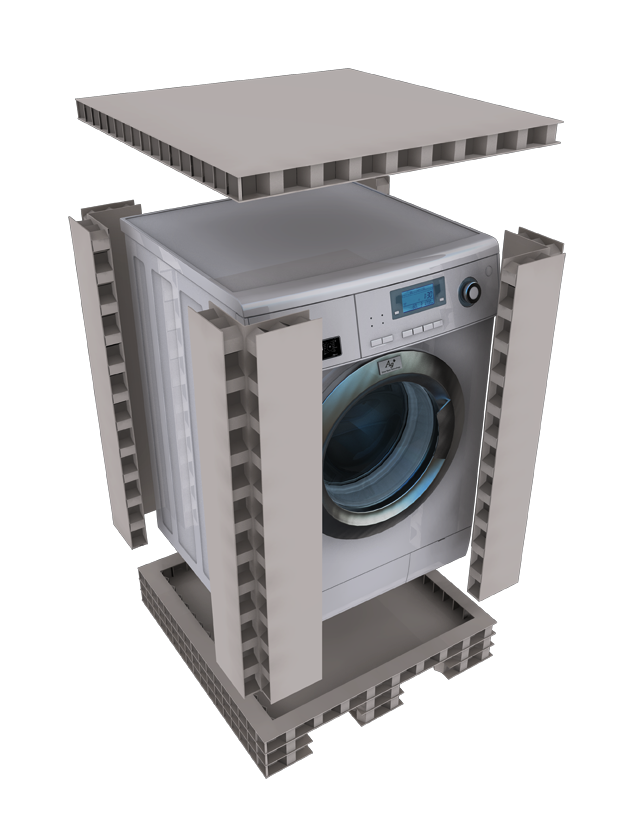 Plastic airbags and foam are non-recyclable and have become problematic for both the customer and the environment. Both corrugated and polystyrene are easily mouldable and familiar to consumers, however, both also come at a cost to the earth.
Honeycomb makes an ideal replacement for polystyrene. It can fill thick voids and be cut and fit to shape. It also uses less paper than counterparts such as corrugated, making it one of the most sustainable options on the market. Not only is it a cheaper option because less product is required to provide the same protection, but it is also lighter, which reduces transportation costs, and the cost to the environment is zero thanks to it being 100% recyclable.
Corrugated ticks the recyclable box and is easily accessible for suppliers. However, it does often require complex designs and intricate folding to tightly pack the product, which needs to be assembled by hand to provide full protection. Because of this, it is more costly and therefore will reduce the bottom line.
Simply replacing traditional void fillers for alternative, recyclable paper-based products, will help to decrease the size of the external packaging box, which in turn will enable more to be placed on vans for delivery, reducing fuel and carbon emissions overall.
SPACE SAVING & STORAGE
The right packaging isn't just about keeping the contents safe. From a logistics perspective, it makes storage possible, enabling items to be stacked and stored safely on pallets, reducing damage.
And when it comes to pallets, it is possible to pack sustainably by swapping traditional wooden or plastic pallets for alternatives. Recycled pallets created for repeat use, may seem like a green choice but they require more time on the road and create more C02.
Recyclable alternatives such as honeycomb pallets negate this and tackle the issue from the offset. They can be recycled in store by the supermarket, providing a financial return and will also save on storage space due to the lightweight nature. They also make lorries lighter on the roads which also reduces CO2.
ELIMINATING WASTE
Waste reduction should always be a priority. Selecting the correct box size for the product and choosing void fillers that can be easily recycled, will help to fight the war on waste and keep storage and delivery costs down.
When it comes to reducing environmental impact and to increase recycling rates, it is vital to make it as simple as possible for customers to recycle. A move to using one single material for both internal and external packaging, provides a simple solution. If the entire product is paper based, there is no confusion and no need to understand what type of plastic it is and which recycling route it can or can't go down. The easier it is to do, the more likely it will happen, and it won't end up in landfill unnecessarily.
SAFETY CHECKING
Part of the logistics journey is checking the safety of packages before they are delivered. This simulates a shipping environment during which items may be damaged.
When selecting your packaging materials, be sure to consider how they could withstand a compression or drop test. The drop test is performed to check the quality of the packaging to determine how the packaging and goods are affected when hitting the ground.
SHOP LOCAL
Consider shortening your supply chain to aid your logistics. The impact of both the Pandemic and Brexit have seen a rise in businesses buying from local manufacturers. Whilst this may have begun as a  short-term solution for some, the reduction in overseas shipping costs, plus the environmental impact and reduction in C02 really does underpin the argument to make a permanent switch and sustainability win.
This also complements the growth of the online retail model, and subsequent rise in localised distribution centres which provide the necessary infrastructure to ensure that customers receive their goods more quickly. They streamline the picking, packing and distribution process where packaging plays an essential role in the performance of these distribution centres and the success of the supply chain overall.
Well-designed packaging can positively impact how these centres are run and can affect the process by reducing the need for re-packing, saving time, manpower and stress. It also has a bearing on space which is a finite resource for many centres. The best solutions should be easy to store and take up as little space as possible so as not to effect valuable inventory storage, especially at peak times.

LIFE CYCLE & CIRCULAR ECONOMY
Whilst efforts must be made to consider the materials used to package, protect and transport goods safely, we still need to look at the entire life cycle and every stage of the process. The circular economy has global benefits. It is time to reduce material use, recapture and repurpose waste and make sustainability and safety synonymous.