Karmelle's UK-made filling, capping and labelling line has enabled Greek hygiene company Flos to increase production.
The challenge:
Established in 1995 in Serres, Greece, Flos SA manufacture a range of cleaning products for domestic and professional use.
The company invested in their first Karmelle filling, capping and labelling line in 1997.
In 2019, Flos identified a need for new liquid packaging equipment to support planned production increases. Keen to continue their partnership with Karmelle, they reached out to the team for a solution. With a range of different products (including washing-up liquids and detergents) to fill, cap and label, the system would need to be adjustable, versatile and operator-friendly.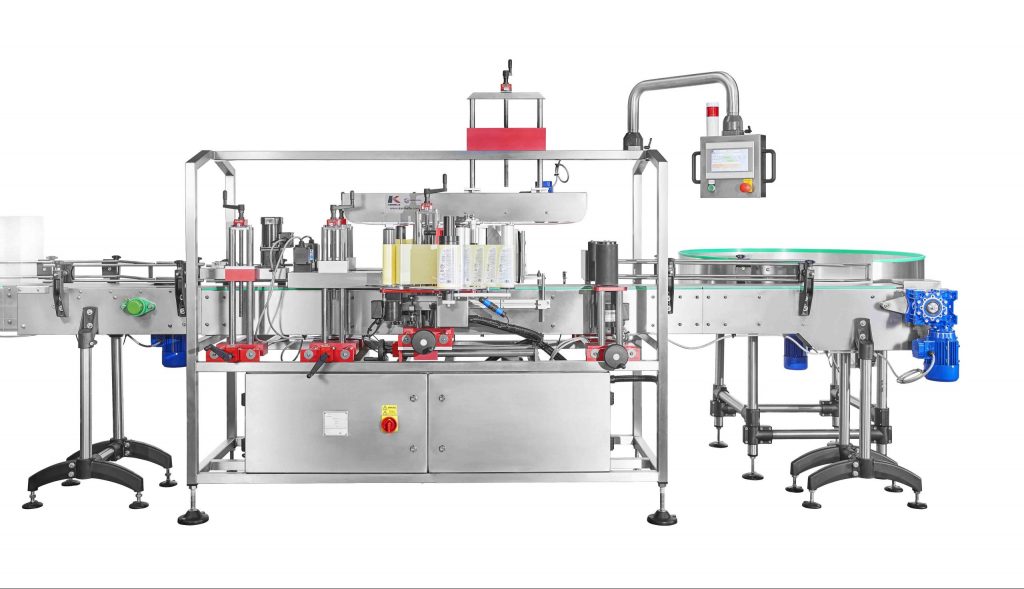 The solution:
Karmelle designed a turnkey filling, capping and labelling line, selecting machines that would offer the production-flexibility Flos required.
Manufactured onsite in West Yorkshire, the system featured a VIPF500 6 Head Volumetric Filling Machine, a Cap Tightening Machine, a Twin Head Labelling Machine with wrap station, a Rotary Collection Table, and connecting conveyors.
After shipping the line to Greece, Karmelle engineers spent a week at Flos' facility, installing and commissioning equipment, and providing staff training.
The process:
Empty containers are fed into the 6 head filling machine, which can dispense product in top, bottom and rising fill modes, depending on its properties.
Caps are hand-placed onto filled containers, which then pass into the KC1000A Cap Tightening Machine to be screwed on. Interchangeable tightening discs make the system suitable for both smooth and ribbed closures.
Containers are transported to the labelling machine, which dispenses front and back or wrap-around labels, depending on the product.
Filled, capped and labelled containers exit the conveyor onto a Rotary Collection Table, from which they can be packed into boxes.

The result:

The filling, capping and labelling line has enabled Flos to increase productivity, and is currently running alongside their existing Karmelle line.

Kostas Papapanagiotou, Flos' CEO, said: "our longstanding relationship with Karmelle meant that, when we needed to invest in new equipment, we trusted their team to develop a solution.

"The line has helped us to scale-up production across our product range." For more information on Karmelle Ltd, visit www.karmelle.com.
To learn more about Flos, visit https://www.flos.gr/en/home-en/.