FANUC UK is once again inviting the next generation of robotics engineers to enter the WorldSkills UK Industrial Robotics competition. Underlining its commitment to supporting the development of a future talent pipeline for the industry, this year's contest is set to make robotics even more accessible thanks to FANUC's 'Education Roadshow', which will see the company travel the UK offering hands-on robotics interaction and education to students. A trailblazing industry-education joint initiative, the WorldSkills competition is a win-win for both the students who take part and the automation industry, inspiring young people to consider a career in robotics and equipping them with technical and workplace skills that are much needed by employers.
Entry is open to students aged 16+ in groups of two at www.worldskillsuk.org/competitions/industrial-robotics from 27 February-24 March 2023.
FANUC will provide training and one-on-one support to the teams that make it through the qualifying round, ahead of the National Final in November.
A partnership between employers, education and governments around the world, WorldSkills uses competition-based training, assessment and benchmarking to raise standards in apprenticeships and technical education. Industrial Robotics is one of the newest of the 72 WorldSkills competition categories offered in the UK and FANUC UK is both the Industry Partner and Competition Organising Partner (COP) for this category.
Training and development are an integral part of the competition and participants will be taught how to programme and operate real-life robots. Working in pairs, entrants will battle it out across two competition stages (Passive Stage and Qualifying Stage), completing tasks designed to test the technical and team skills honed during their WorldSkills journey. The top scorers will progress to November's National Finals and the winning team will then have the opportunity to go on to represent the UK in the International Finals.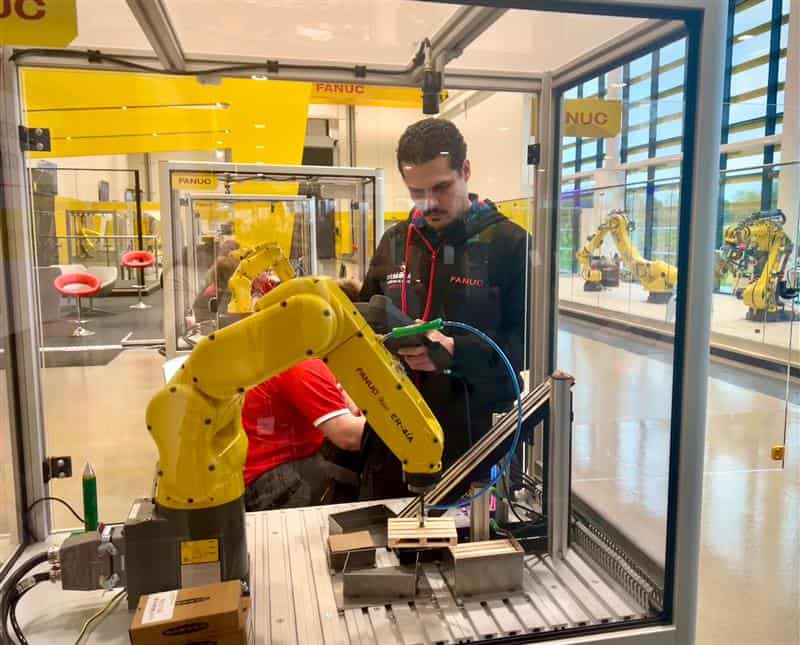 Now in its third cycle, the WorldSkills UK Industrial Robotics competition has gone from strength to strength. Last year's cycle attracted 16 teams from across the UK, including the first all-female team, and thanks to new features such as the Education Roadshow, FANUC UK is confident that this year's contest will be the most successful yet.
FANUC UK Managing Director Tom Bouchier said: "Nurturing the next generation of robotics talent is vital to the future of the UK's manufacturing industry, and key to this is forging closer connections between industry and education at the crucial and historically neglected post-GCSE stage. As a company, we are super keen to engage with young people and enthuse them about robotics engineering as a career choice. The WorldSkills UK Industrial Robotics competition is all about making robotics accessible, relevant and appealing to young people, bringing classroom learning to life."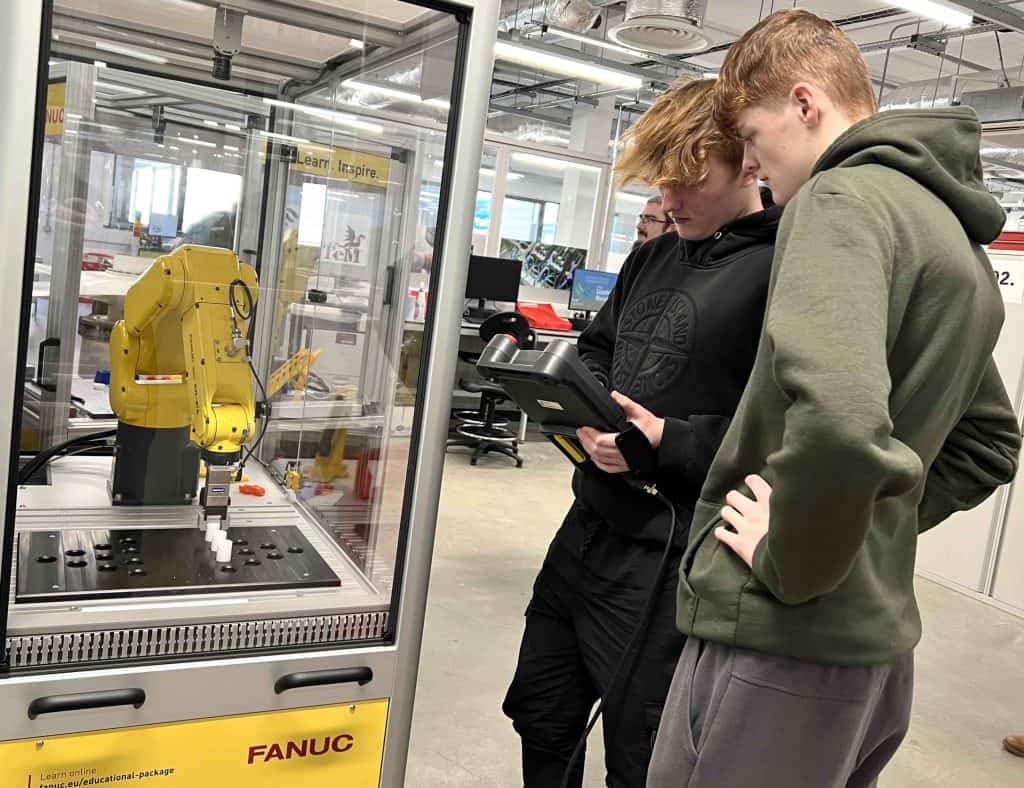 How to apply
Register in teams of two via the WorldSkills website www.worldskillsuk.org/competitions/industrial-robotics from 27 February 2023. Entries close on 24 March 2023.
Entry criteria
Eligible entrants are 16+ year old students in groups of two. Schools and colleges are encouraged to invite students to register, safe in the knowledge that FANUC will provide training and one on one support to the teams that make it through. There is no limit to the number of teams permitted to enter this competition per organisation.
Entrants must be present for the final stage of the competition at the National Finals in November 2023. They must also be within a year of completion of a relevant Level 3 Apprenticeship and/or hold qualifications in an engineering-based subject to a minimum of a Level 3 or equivalent. Additionally, applicants must not have been employed within the industry of the chosen skill for more than three years prior to registration, not including the period of an apprenticeship.
The Passive Stage will require teams to complete a task on FANUC's ROBOGUIDE system, which they can access using the 30-day free licence. FANUC will then provide everyone who makes it to the final with a free ROBOGUIDE educational license, to support their studies further.
Competition timeline
Entries open (27 February 2023)
Entries close (24 March 2023)
Passive stage (May 2023) – assessment of the team using simulation software
National Qualifiers (June 2023)
Announcement of finalists (summer 2023)
Training and development (autumn 2023)
National Finals (November)
Squad UK – the winning team will represent their country at the International Finals and compete against the winning teams from other countries. NOTE: International competitors must be 25 or under.