The long-awaited trade show for natural, organic and sustainable products – Natural & Organic Products Europe – is finally back at ExCeL London, between 3-4 April.
After a two year wait, the show is open to buyers, retailers, wholesalers and distributor's hoping to discover the best choice of natural and organic food, drink, health, beauty and eco-living innovations to put into their stores.
Event Director Carol Dunning said: "After many years of uncertainty, we believe the 2022 edition will be the best yet! Our industry is resilient, and people are raring to get back to business, so we've been working hard to deliver exciting new brands, a world-class seminar programme and an unforgettable show experience for our visitors."
The two-day show will bring together 1000+ brands across five exciting sections: Natural Food (natural, organic, free-from, fair trade and sustainable food and drink); Natural Health (natural and clean vitamins, minerals and supplements); Natural, Beauty & Spa (clean, conscious, and organic beauty and personal care), Natural Living (natural, organic and plastic free eco living products); and Vegan World (dairy free, meat-free, plant-based food and drink).
Local brands & worldly flavours 
As well as leading local brands from the UK, there's no shortage of diverse speciality food and drink products from across Europe and the rest of the world. Don't miss a range of suppliers on pavilions from Italy, Greece, Chile, Thailand, Turkey, Philippines, and USA. The Soil Association will also return with its Organic Hub and new for 2022 – the 'Ingredient Zone' will feature an array of natural and organic ingredients for the foodservice industry.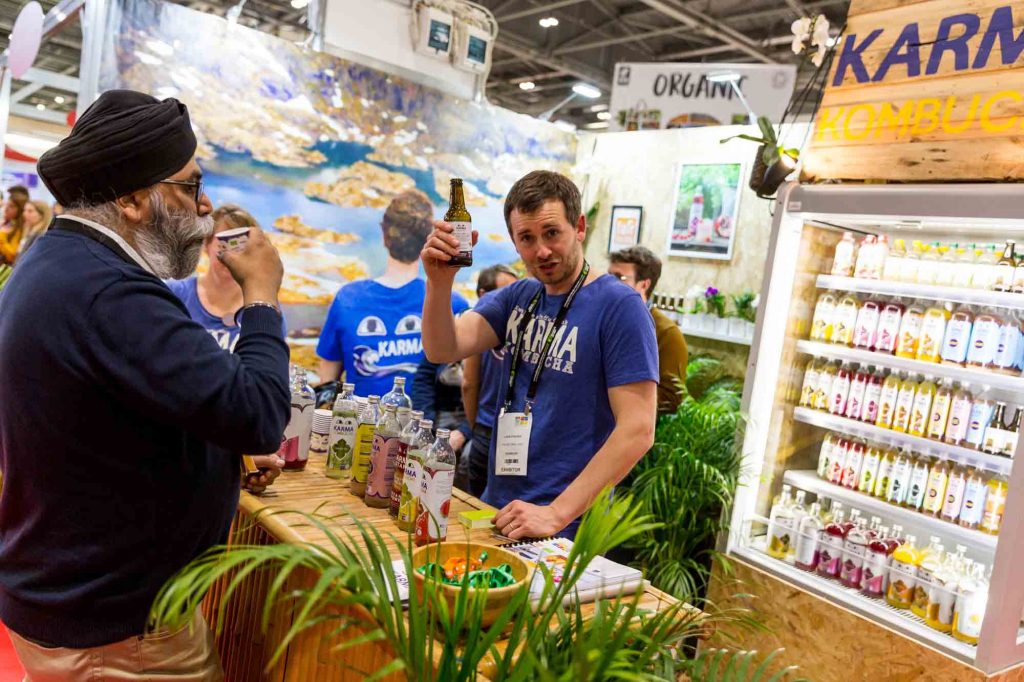 A big appeal to the show is the opportunity to meet new brands emerging onto the market. Brands making their debut include Be Hundred Percent, Outstanding Foods, Olivers Cupboard, Just Real Food, Eurofins, Quinola, Freedom Confectionery, Vrsna Chocolates, Jay & Joy, G.G. Hellenic Aloe, The Celtic Bakers, KABA Herbs and many more. Whilst big names like Tree of Life, Suma, Essential, Natracare, Faith in Nature, Pukka Herbs, The Vurger Co, Alpro, Booja Booja, Creative Nature, and Clearspring will be returning to the show with their latest innovations.
Post Pandemic Insights  
For many industries, the pandemic has had an unexpected impact on businesses. As we approach a 'post-pandemic' world, strategic resilience and crisis management is vital for economic recovery. In light of this, the show's free-to-attend seminar programme will be invaluable to members of the trade.
Shopping habits changed dramatically over 2021, and now everyone is looking ahead to which changes are here to stay.  Alison Muirhead, Business Development Manager at Soil Association will facilitate a panel revealing post-pandemic insights from the Soil Association's 2022 Organic Market Report. Visitors will also be able to hear from businesses that have evolved through the pandemic by developing strong consumer channels and will provide their tips on how to develop online.
To view the full seminar programme, please visit www.naturalproducts.co.uk/seminars-2022.
Natural & Organic Products Europe will return to ExCeL London on Sunday 3 and Monday 4 of April 2022. To register for a free trade ticket, please visit  https://eventdata.uk/Visitor/NOPE2022.aspx?TrackingCode=NF154