Natalie Redford takes us behind the scenes as her agency Robot Food painstakingly tackled one of its most complex missions to date: bold new branding for US-based sustainable cleaning brand Cleancult
When it comes to great brand names, Cleancult ticks a lot of boxes: those snappy two syllables and memorable alliterative twist succinctly describes what the brand is, and suggests that it inspires a devoted following.
But when we started working with Cleancult – a US-based eco-friendly cleaning products company – its brand positioning, visual identity, tone of voice and overall positioning wasn't capitalising on that smart moniker, and it certainly wasn't conveying just how effective and innovative the range really is. While the intention behind the name was to create devotees, the overall brand just wasn't connecting with consumers.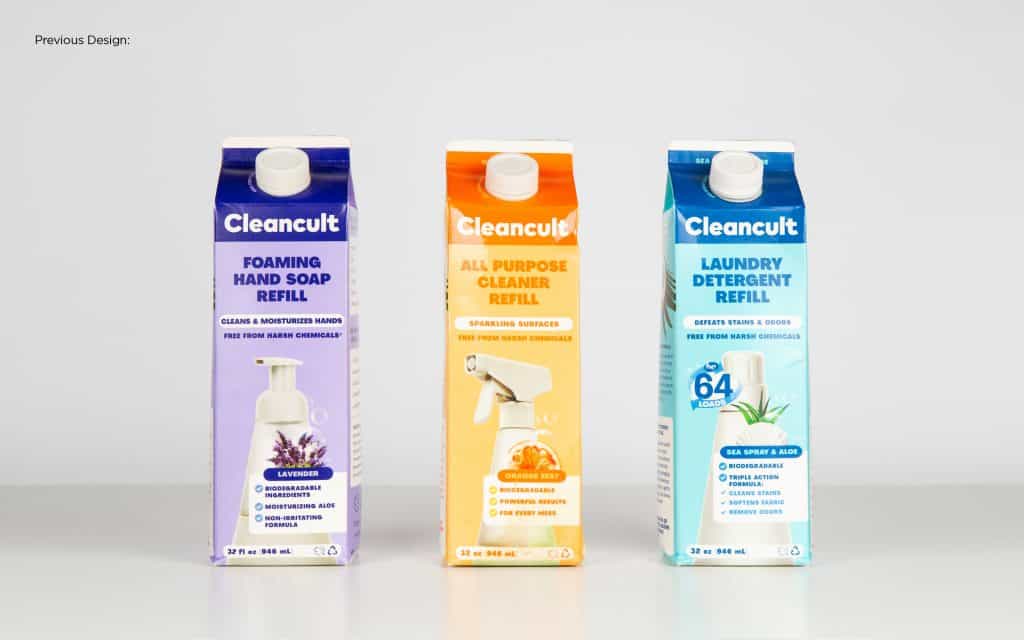 My agency, Robot Food, was brought in to help Cleancult achieve a number of key objectives. The new branding had to set the business up for growth; achieve key retail listings while equally setting it up for success online; cement a clear vision that would galvanise everyone working for the company; and create a true 'cult' of consumer fans.
With a name and product like Cleancult's, we knew the brand's visual and verbal identity had to be a distinctive and unapologetic expression, created as part of a holistic approach that made the range sparkle at every touchpoint. The identity had to be bold and brave: something that Cleancult's target audience – consumers looking to adopt greener behaviours through a premium, affordable option with a 'kitchen counter-worthy' aesthetic – couldn't ignore.
But while it could be truly disruptive to really stand out; the designs also had to communicate Cleancult's unique efficacy and eco-friendly credentials and instil trust.
The project began with a research phase, taking a deep dive into Cleancult's sector, and its main competitors. We kicked off by interviewing key stakeholders at Cleancult to understand more about what they felt was working for the brand and what wasn't.
Those conversations often echoed our feelings about the name: that it wasn't fulfilling its 'intention to build a community'. It was also felt that although Cleancult is a very different, innovative proposition; now that the brand was moving beyond D2C and into mainstream retail, the look and feel needed to focus less on 'what's cool' and acknowledge that it's 'supposed to be used by real people'. Cleancult needed to stand out, but with some cues that still placed it firmly next to more conventional products in the category to underscore its trustworthiness and performance.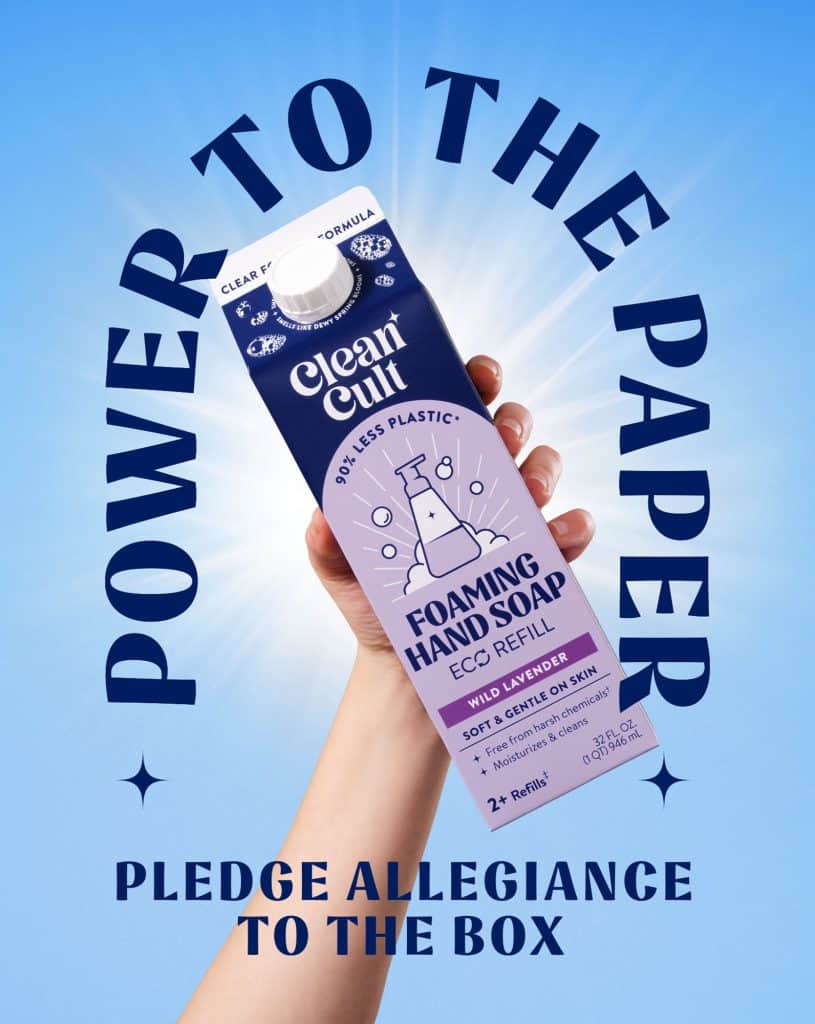 The interviews also unveiled another key consideration around different cultural attitudes towards the environment: some stakeholders pointed out that the US has different regulations on cleaning products than the UK – it was suggested that American culture is still a few years behind on the 'war on waste'.
As such, Cleancult's branding needed to clear any confusion about how the packs can be reused and recycled, and drive home the range's eschewal of plastic and carcinogenic chemicals. And while in the UK 'green' means 'eco-friendly', in the US, it simply means 'natural'.
Our main goal was to connect consumers' values (chemical-free, eco-conscious, aesthetically minded) with Cleancult's own – making the 'cult' mean something while maintaining a sense of humour. The brand had to find its relevancy.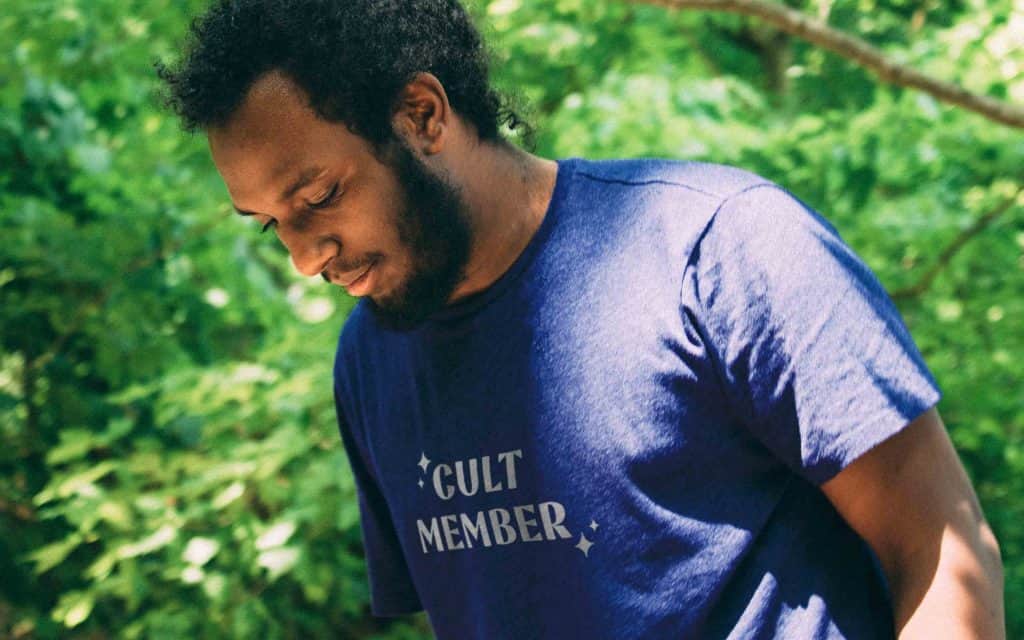 We landed on 'Cleaning is believing' and 'Cult of Clean' as the creative platforms on which to rebuild the Cleancult brand.
We positioned Cleancult as the perfect solution to a common problem: when it comes to cleaning, there's almost always some sense of sacrifice when it comes to choosing products – efficacious but chemical-packed; beautiful packaging but inefficient; great scent but dried out hands, and so on. People want a product that offers a solution rather than opening up even more questions – something instantly trustworthy, which reassures them that they're doing the right thing.
Cleancult steps in as the range that finally lightens the load and strips back the mess with something that's sustainable, effective, and satisfyingly easy on the eye. In short, it offers 'clean' without sacrifice.
We identified a few key things that were holding Cleancult back in its former designs, such as the need for the brand to feel premium despite structural packaging (i.e. Tetra Pak) that doesn't read as such. The structural packaging also means that consumers can't see or smell the product prior to purchase; and there was a disconnect between the refillable glass bottle products and Cleancult refill packs that needed more clarity.
Our creative solution was to create a central pack icon that highlights each product's refillable glass partner. A bespoke die–cut card format for the refillables is used to connect the brand, usage, and paper–based carton refills with the glass packs. This gives the refill and refillables a much clearer visual connection, ensuring a stronger brand imprint across the portfolio and no more confusion.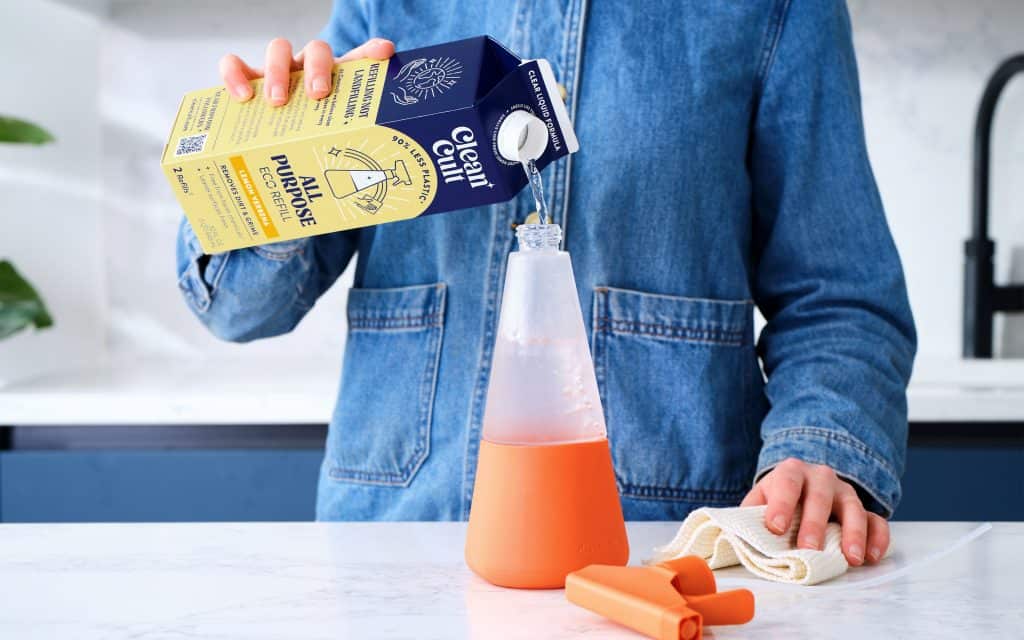 Scent is dialled up on the refills with a clear colour system to aid navigation across the range, alongside evocative copy around the lid to help bring it to life. Key performance claims and eco callouts sit prominently on pack to help highlight the brand's effectiveness and point of difference.
While trustworthiness, environment, and (obviously) cleanliness had to be conveyed succinctly and immediately, where Cleancult really stands out is in the ample room it still has for playfulness. It stands out a mile next to its nearest rivals with a beguiling, magnetic personality that truly disrupts what we expect from an otherwise rather boring category in both its structural packaging and graphics.
The new visual identity marries playfulness with a rigorous sense of efficacy. A number of distinctive graphic devices are used across all touchpoints – from packaging to posters, the website and social media to billboards – including the Cleancult 'arch', which acts as a window into the brand's world. The 'ding' – a star-like icon that sits with the brand's striking typography – acts as the finishing touch, 'the gleam in the clean,' as we've nicknamed it. The 'rays' underscore the brand's positive, aspirational elements and category icons aid navigation across product ranges where format would traditionally play a part.
The logomark uses an eye-catching, unusual serif font; which is complemented by semi-serif font Nazare for titles and grotesque Brandon for Cleancult body copy. The new bold blue and white primary brand colour palette gives Cleancult a dynamic, fresh look that feels trustworthy and effective; while a suite of five secondary colours to communicate scent and add further depth to the brand world.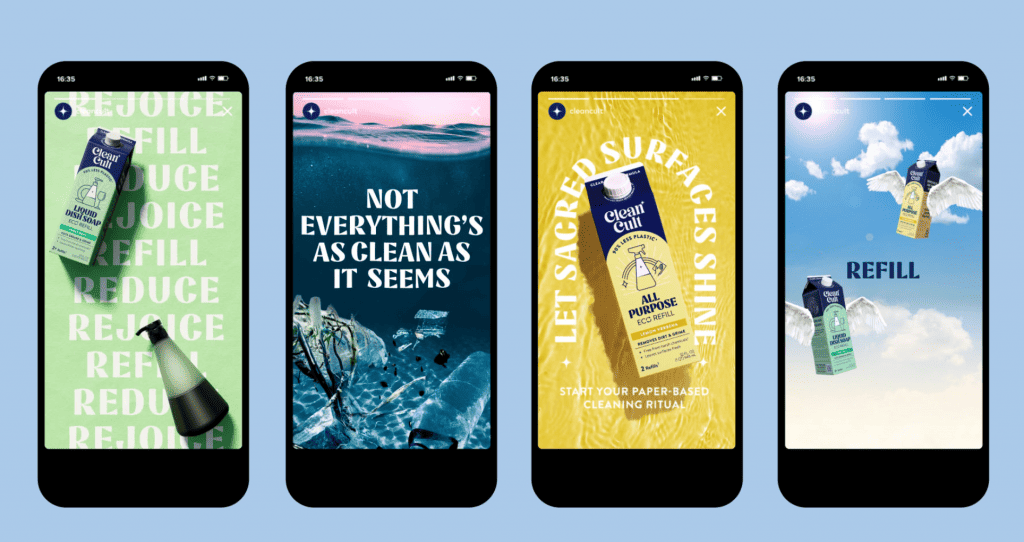 The new branding playfully gestures towards the 'cult' of the name with the symbols and distinctively ornate logotype. To avoid any trickier connotations of the word, we had to make clear the brand's main mission – to convert consumers from using plastic into a sustainable paper-based refill system – and reassure them that this is a product that's safe, heaven-scented and actually works.
Tone of voice takes the role of the magnetic cult leader, building a following through playful, tongue-in-cheek copy, that's underscored with a harder hitting message.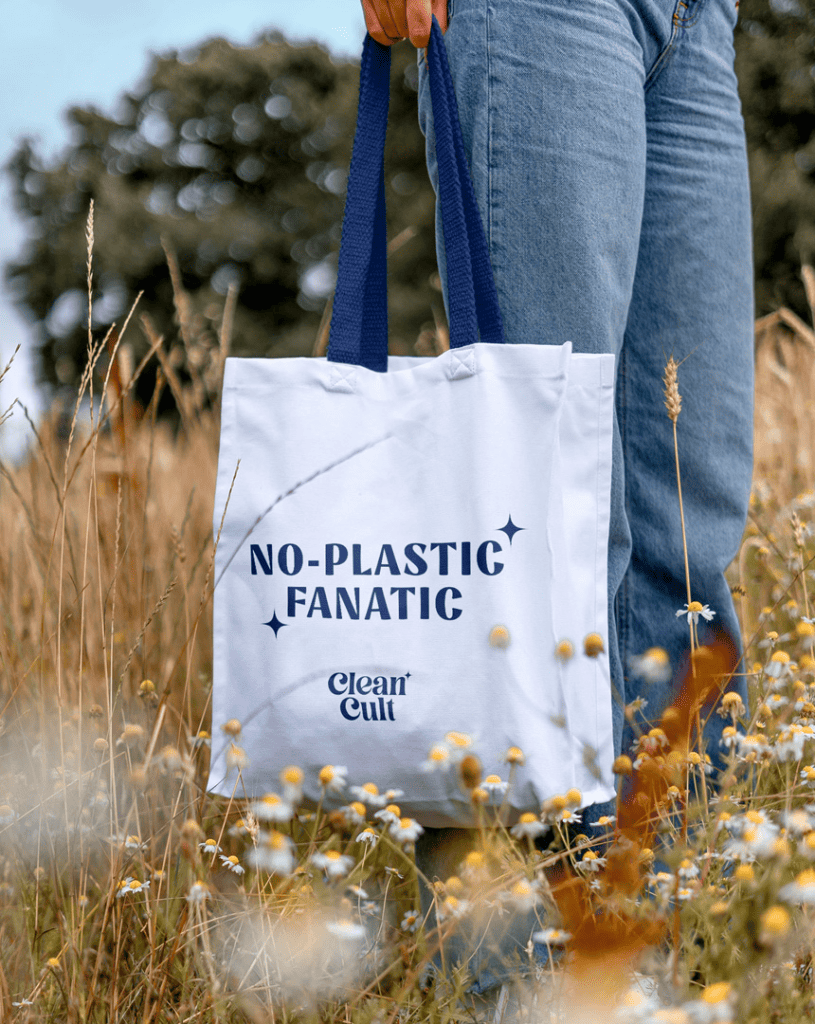 With any purchase – perhaps particularly with cleaning products – people want to know what's in it for them and feel reassured that they're doing the right thing. We wanted to show Cleancult as the singular, trustworthy solution: the right choice for consumers, and the planet. The new branding really leans into the cult to inspire consumers and prove that clean, really should mean clean.