China is in the midst of a retail revolution and in one of its latest eye-catching trends, chief executives are transforming themselves into live streaming stars. Dr Winter Nie and Mark Greeven report
On June 11th, 2020, William Ding, the founder of NetEase (a leading internet technology company in China, whose businesses cover online games, online education, and e-commerce), must have been one of the busiest people in China. In the morning, his company completed a second listing on the Hong Kong Stock Exchange, where he performed the customary bellringing with the help of a "cloud" from his headquarters in Hangzhou. How did Ding celebrate his big day? He made his first livestream sales pitch in the evening on both the NetEase Yanxuan (NetEase's e-commerce business) and Kuaishou apps. What better way to capitalise on this special occasion than being a live streamer in the e-commerce space?
COVID-19 has accelerated the adoption of live streaming. For some Chinese entrepreneurs, live streaming meant survival. Sun Laichun, CEO of a cosmetics company (Lin Qingxuan), realised that the cash in the company's account could barely sustain the business for two more months when all the physical stores were shut due to the pandemic. He decided to give livestream selling a try on the largest e-commerce platform, Taobao. Unexpectedly, for a first-time appearance, he attracted an audience of more than 60,000 and sold nearly RMB400,000 (US$57,000) worth of camellia oil. The live streaming definitely helped him weather the crisis.
CEO livestreaming: learning by doing
Not all CEOs are as successful in live stream selling as Mr. Sun was at their first attempt. Ms Dong Mingzhu, chairman and president of Gree, (a global fortune 500 company that is the world's largest residential air-conditioning manufacturer) is a well-respected businesswoman, who is also known as an iron lady. As young as she is in appearance and at heart, Dong had reached the golden age of 67 when she ventured into live streaming. On April 24th, 2020, Ms Dong did her first live stream selling on Douyin, the Chinese version of TikTok. Although there were over 200,000 people watching the live stream, she only sold US$32,000 worth of products. The network connection for the entire live broadcast was poor, and it kept getting stuck. Some netizens joked, "'Gree' doesn't have the core technology, goodbye".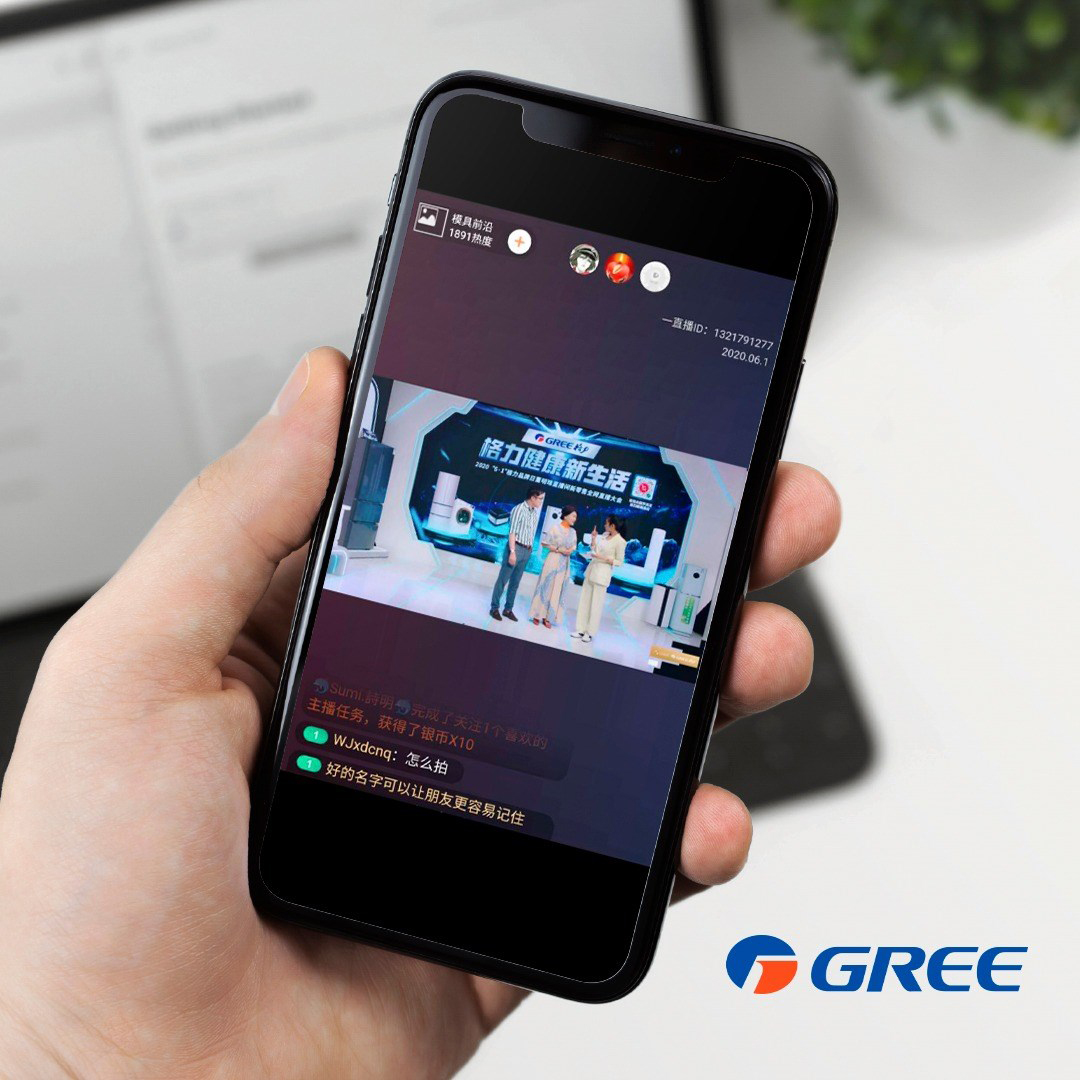 Ms Dong, however, is not easily deterred and she decided to try it again. On June 1st  2020, she sold US$915 million worth of products in a broadcast, 18 days later, she sold US$ 1.46 billion worth of products in another broadcast. For the whole year of 2020, Ms. Dong participated in 13 livestream broadcasts, and sold US$9.3 billion worth of products, which is equivalent to 28 percent of Gree's 2020 revenue.
Was this just because Gree solved the "core technology" problem of the network getting stuck? No, the network was just the most basic requirement – Gree did a lot more.
During the past ten to twenty years, Gree had built a mature dealer network with over 30,000 dealers and physical stores all over China, which contributed to Gree's No. 1 position in the air-conditioning market in China for 10 years. During the COVID-19 crisis in 2020, the air-conditioning market, especially offline channels, has been seriously hit. In the first quarter of 2020, Gree's revenue and net profit dropped by about 50 percent and 70 percent respectively.
Learning from the first live streaming, the company was well prepared for the following ones. Before doing them, its dealers all over China marshalled potential customers. For example, dealers set up stalls in neighborhoods, offering the residents a small gift if they added the dealer's WeChat account. When Ms Dong did the live broadcasts, the dealers sent potential customers an exclusive QR code which the user could scan to watch the live broadcast. Once a customer placed an order, Gree would pay the corresponding dealer. Essentially, they were converting offline traffic to online sales during special live streaming events. Promotion and "great deals" accompany the live streaming.
Do CEO Live Streamers counter-balance overpaid influencers?
Professional live streamers (sometimes labelled as influencers in western media) are the dominant force in China e-commerce. Given their influence, the most popular professional live streamers command an outsized fee and drive a hard bargain in terms of product price concessions, which leaves the brands little room for profitability. The main challenge for brands, is that professional live streamers are brand agnostic because they sell products from many different brands.
For example, one professional streamer, Li Jiaqi, also nicknamed Mr. Lipstick, sells ten different brands of lipstick in a few-minute segment. Fans trust in the live streamers and their ability to select the right products with the most attractive prices. CEO live streamers, however, could potentially counterbalance the power of professional streamers by offering direct communication between brands and customers and passing savings directly to them.
Professional live streamers and CEO streamers are not direct competitors. Sometimes they work together, side-by-side. The company can benefit by leveraging the traffic professional streamers bring and also their selling skills. However, in the long run, the use of professional streamers will become more and more expensive, and their bargaining power is getting stronger. They take more product value — the part that originally belonged to the brand premium.
Live streaming is a new phenomenon. In a way, no one represents the brand better than the CEO. While CEO live streaming is not for every CEO or brand, some Chinese CEOs did live streaming out of financial necessity to save the company, like Sun Laichun for his cosmetics firm. Other CEOs see the new trend and are willing to experiment, like William Ding from Netease. As with anything new, trial and error is one way to learn and to find out the best path forward.
The Future of Global Retail: Learning from China's Retail Revolution by Winter Nie, Mark J Greeven, Yunfei Feng & James Wang, is published by Routledge, priced £26.99, available from Amazon and leading international booksellers.