Upall's innovative protected wooden pallets are designed to deliver savings and sustainability
Upall pallets were launched by James Jones & Sons (Pallets & Packaging) Ltd. They are 1200×800 wooden pallets fitted with patented guards at the point of entry on all four sides to reduce damage to key structural components, including blocks, base boards and stringers, with the aim of extending the lifespan and overall environmental benefits.
Since the launch of the venture, the Upall team has been working with several companies and one of the major pallet pools to run trials of the protected wooden pallets in live supply chain environments. The trials are putting the pallets through their paces in real world situations, following two academic studies that confirmed the patented guards extended the lifespan of wooden pallets by at least three times – and often by significantly more.
At Napier University, tests simulated pallet handling conditions in European dry grocery supply chains. They found that the guards gave the timber at the perimeter of the pallet a high degree of protection from impact damage.
Compared with non-protected pallets, Upall pallets showed a 96 per cent reduction in damage of corner blocks, which are usually the most frequently damaged part of a wooden pallet; a 52 per cent reduction in damage to stringers and base boards; and a 16 per cent reduction in damage to top-deck boards.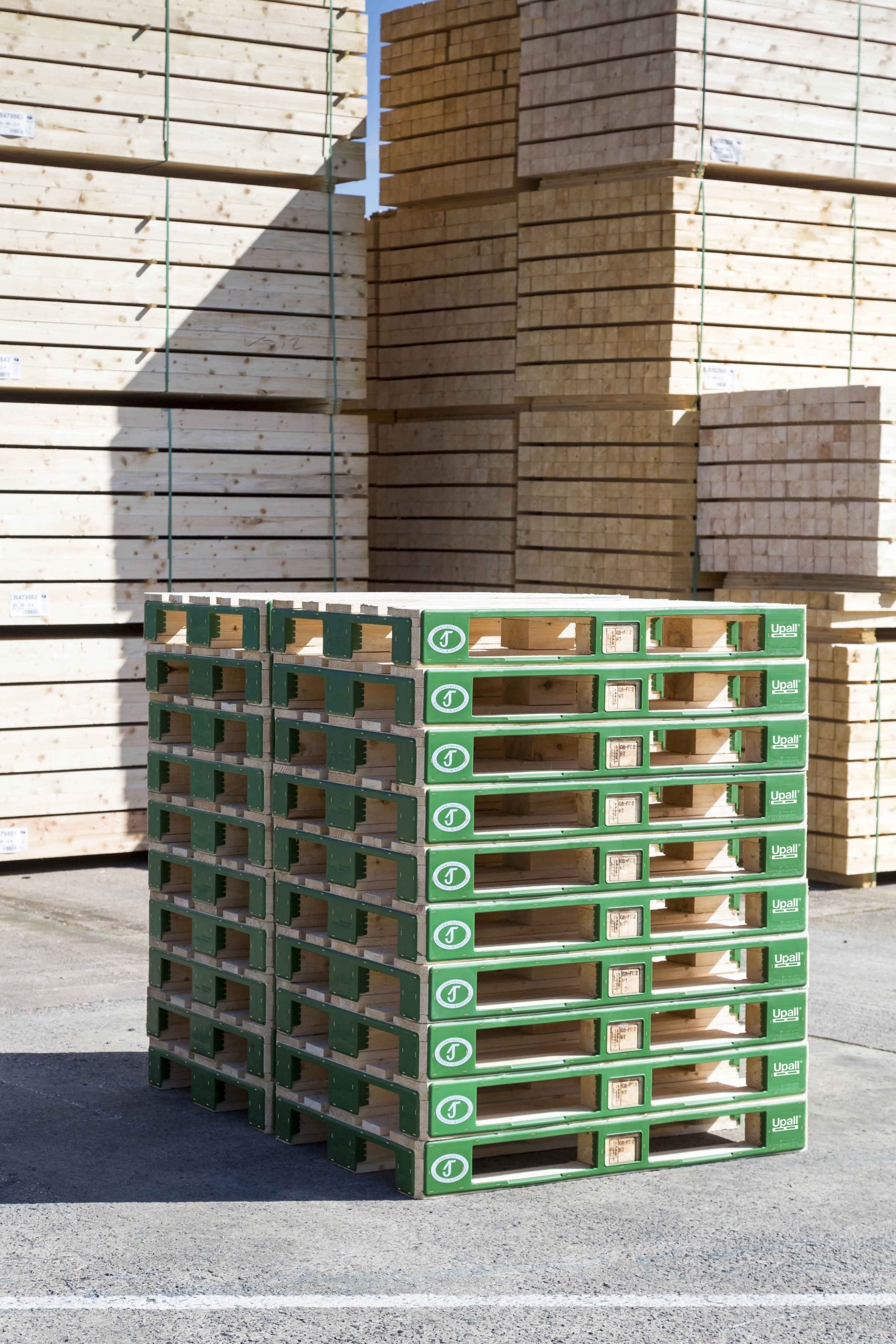 According to Upall, the pallets "last longer and spend more time in circulation – rather than out of use being repaired. The reduction in damage means a smaller overall number of pallets are required; a reduction in splinters and other debris from damage; maintenance of consistent dimension tolerances; the pallet is a perfect choice for automated handling systems and line; a safer product; and, crucially, a huge CO2 offset from the supply chain created by less use of timber in repairs and manufacture. As the pallets last longer without needing repairs, they can be reused immediately, rather than travelling for repairs or being scrapped."
The wood is repairable, non-slip, carbon efficient, recyclable and capable of sitting on high bay racking without reinforcement. The plastic guards, meanwhile, reduce the risk of mould, provide consistent fork opening dimensions (perfect for automated supply chains) and improve the overall aesthetics of the pallet due to the fact they can be manufactured in any colour and with any branding you require. All parts of Upall pallets are recyclable and replaceable.
Gil Covey, Chairman of Upall, said: "Compared with an unprotected pallet, a Upall-protected pallet lasts much longer, needs far fewer repairs and stays in circulation for longer earning revenue. The economic advantages are compelling, while a pallet that is longer-lasting, reusable and fully recyclable also has a much greater benefit for the environment."
Leading European pallet pooler LPR has been involved in a project with Upall to road test Upall pallets, taking delivery of a significant number of the pallets for use with one of its major FMCG customers. Upall are customisable and were supplied in LPR's trademark red and with LPR's branding for the trial.
Customers engaged in the trail reportedly responded well to the green credentials of protected pallets. Using the wood in the pallets for longer, means the CO2 is stored for longer, too, while substantially fewer repairs means less wasted mileage, which has been a major focus for LPR as part of its sustainability initiatives.
LPR embarked on a second stage trial, testing the Upall further with another leader in the FMCG business. Initial tests were positive, according to the company.
Upall is using the results of its ongoing trials to create a full life cycle analysis and quantify the benefits of the system further.
To find out more, visit www.upallpallets.com