The ambitious aim is to revolutionise the way the world buys spring water. With a growing list of influential supporters like Bentley, Manchester City and the Glastonbury Festival, this brand innovator is gaining impressive exposure
The brand
Water in a Box is a 100 percent British water brand that launched in 2014 with the ambition to change people's habits when it comes to buying water on the go by providing a genuinely sustainable alternative to PET plastic bottles, cans and glass bottles. The idea was, and remains, simple; to repackage spring water into something that's better for the environment, better for our health and accessible to everyone.
Water in a Box is sourced entirely from British spring water in the Mendip Hills of Somerset. The water flows directly into the Water in a Box packing site meaning less carbon emissions and a more eco-friendly packaging process. The cartons have been innovatively designed to be streamline and lightweight which gives them the lowest carbon footprint of all drinks containers and at least one third that of PET plastic. An impressive 80 percent of the packaging is made from plant based materials meaning it is entirely recyclable. The product is available in natural spring (500ml and 330ml) and three fruity flavours; Lemon & Lime, Strawberry and Peach & Orange (all 330ml).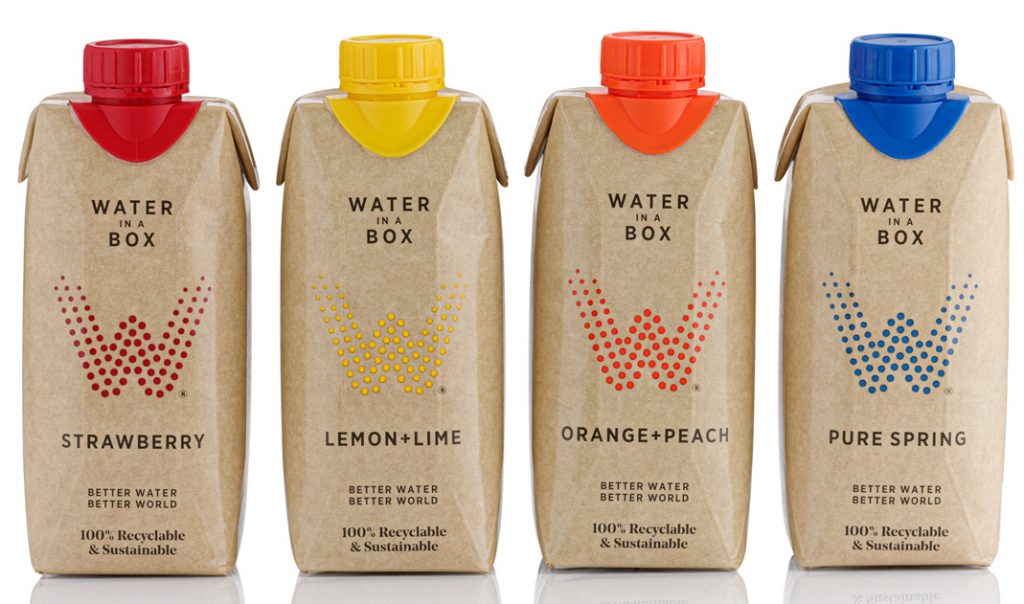 The story
Back in 2014, one of our original founders of the brand, Michael Richards, was on a family holiday in Goa, India, when he found himself in an ocean clogged and filled with plastic waste. Sadly enough, this is becoming increasingly common across some of the most beautiful beaches in the world as plastic pollution grows. Every day approximately 8 million pieces of plastic pollution find their way into our oceans. Michael was horrified at what he saw and thought that there must be a better way. So to tackle part of the problem, plastic bottles, he decided to launch Water in a Box.
Timeline of the brand's evolution
2012 – Original brand name, Vivid Water Ltd incorporated.
2013 – The brand developed a compelling strategic brand proposition and worked with Tetra Pak to identify the most appropriate packaging solution.
2014 – Water in a Box launched with a 100 percent biodegradable cardboard carton that was 50 percent British water and 50 percent German water priced at between 69-79p for a 330ml or 500ml carton of water.
2014 – Water in a Box secured a deal with Tesco, the brand was then rolled out in 500-800 stores across the country, with a plan for further expansion nationwide.
2015 – Water in a Box was launched in Australia and Qatar, the brand secured listings in Superdrug, Selfridges and continued to dominate the shelves of Tesco stores.
2016 – The brand began to struggle at a time where the green conscious consumer was not as common as in today's world.
2017 – The founder's wanted to keep the ethos of making the brand accessible to all with pricing as competitive as it could be. This proved a challenge and with other operational internal issues, the brand decided to take a break to rethink the direction of Water in a Box.
2018 – Water in a Box bounced back with new faces leading the business; Karl Martin, now Commercial Director and David Grannell, Managing Director.
2019 – Water in a Box began the process of a rebrand for the business, focusing on how to improve the look and feel of the brand to appeal to the modern sustainable consumer.
2020 – Water in a Box came back with a refreshed new look and switched to be a 100 percent British water brand working with supplier Framptons, with the water sourced from Blue Mountain Spring in the Mendip Hills, Somerset.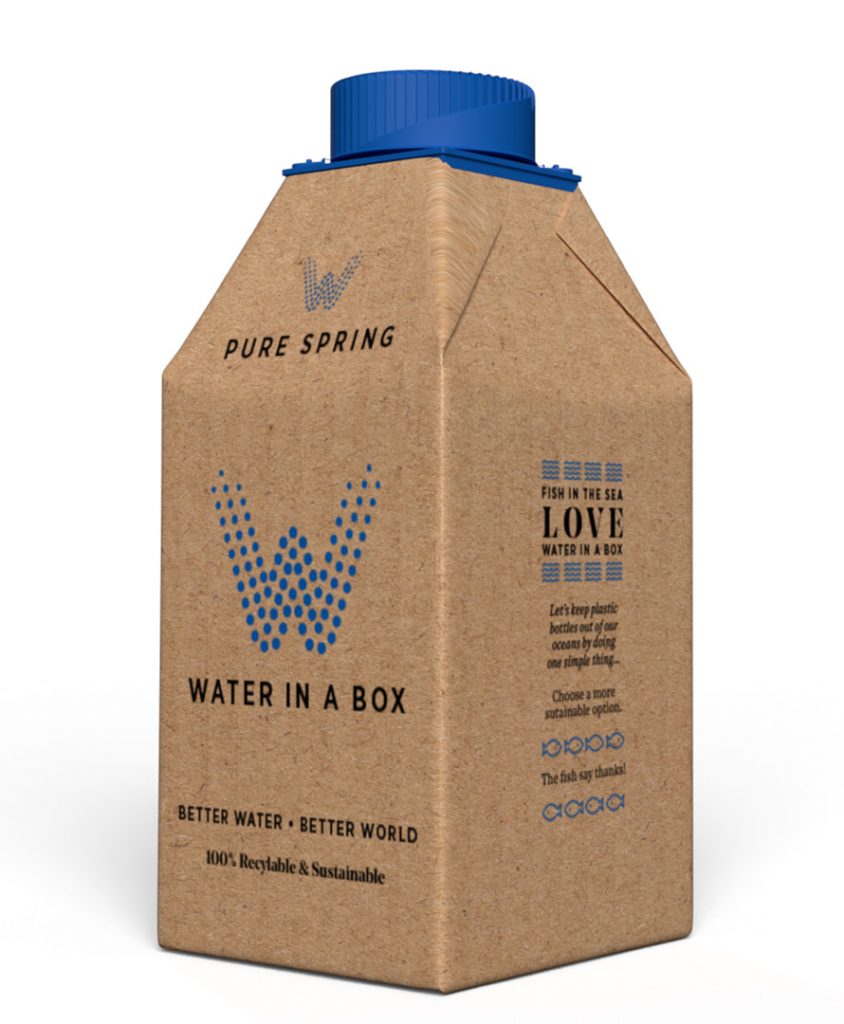 2021 – Relaunching in the summer, Water in a Box renewed and improved its packaging format and design, contributing to its lower carbon emissions, with a 59 percent reduction in plastic materials. Water in a Box is now proudly predominantly made out of recycled cardboard that is 100 percent recyclable.
2022 – The brand has its most successful year to date and seen phenomenal growth.
Water in a Box secured a partnership with sporting organisation, UK & England Athletics, providing 30,000 cartons of water across nine sporting events.
The brand also became the official water partner of national charity run, Run for All, remembering the legacy of the late amateur athlete and fundraiser, Jane Tomlinson CBE. This saw the brand supplying 70,000 cartons of water across 16 races this year.
In July, Water in a Box reformulated its packaging again to be even more sustainable; its 500ml SIG cartons are now produced from 90 percent plant based materials.
The brand now distributes 50,000 cartons of water each week across the UK to retailers like TK Maxx, Amazon, leading leisure attractions like The Deep and The O2 Arena and festivals such as Glastonbury.
It is the only water brand available to staff, visitors and players at the Etihad Stadium and training ground in Manchester as part of the Manchester City FC's commitment to the Pass on Plastic campaign and the product has been spotted in the hands of famous club players like Riyad Mahrez and, Real Madrid striker, Karem Benzema.
The brand has become the sustainable water brand of choice in Bentley showrooms across the South East as well as a number of Higher Education campuses as the education sector steps up its Green agenda to ditch single use plastic.
Brand ethos
We know Water in a Box isn't perfect because in an ideal world everyone would carry a refillable water bottle. But we are confident that what we are contributing to, isn't about being perfect. We don't need a handful of people to be perfectly sustainable. We need millions of people doing it imperfectly.