British brand, Water in a Box is disrupting the soft drinks market once again by further enhancing the sustainability of its cartons.
Certified by the Forest Stewardship Council, Water in a Box's 100 percent recyclable packaging has been reformulated. Its 500ml SIG cartons are now produced from 90 percent plant based materials and its 330ml Tetra Pak cartons are made from 80 percent plant based materials making it a planet friendly option for staying hydrated on the go this summer.
Water in a Box launched in 2014 to encourage people to change their habits when buying spring water on the go. It is sourced entirely from British spring water in the Mendip Hills of Somerset, where it flows directly into the packing site.
Managing Director, David Grannell adds: "In an ideal world we'd all remember to take a refillable water bottle with us, but no-one's perfect. Whether you're in a rush and forget or simply run out of water, there's always going to be a need to buy a drink while you're out so that's why we're producing a truly sustainable option. We've proved that there is an affordable and genuine alternative to buying water in a plastic bottle, a glass bottle and even a can. We need more people to make the conscious swap and for buyers, retailers, leisure operators and stockists to empower people to have a choice to consume better."
The brand is committed to developing a convenience product that does the least harm to the environment and as people's understanding of the impact consumerism has on our planet grows, so too has Water in a Box's position within the drinks to go sector.
The brand now distributes 50,000 cartons of water each week across the UK to retailers like TK Maxx, Amazon, leading leisure attractions like The Deep and The O2 Arena and festivals such as Glastonbury. It is the only water brand available to staff, visitors and players at the Etihad Stadium and training ground as part of the clubs commitment to the Pass on Plastic campaign and the product has been spotted in the hands of famous club players like Riyad Mahrez and Karem Benzema.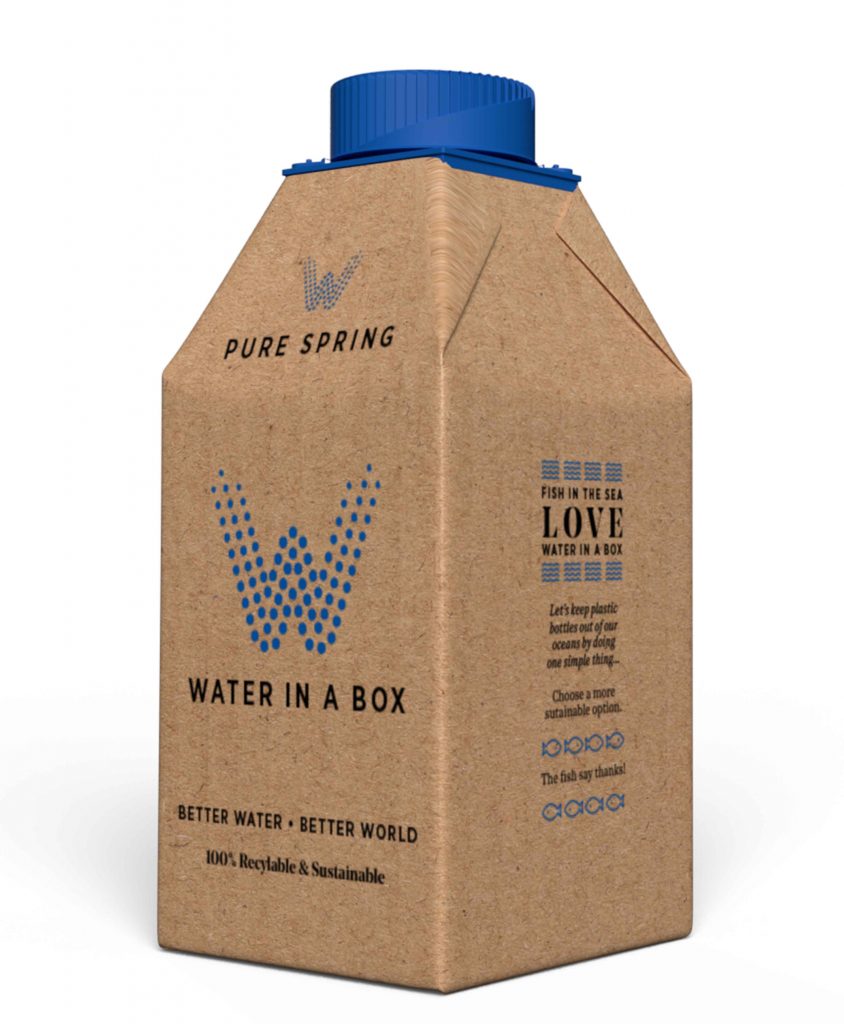 Water in a Box, the climate-friendly alternative to water in cans, plastic or glass bottles, has been chosen as the water provider of choice to help increase the sustainability credentials across the wider sporting industry too. The brand now proudly provides its cartons at the finish line for Jane Tomlinson's Run for All events, for UK and England Athletics and is in talks with the ECB.
Commercial Director, Karl Martin said: "It is horrifying to see the impact on the planet that plastic and in particular plastic water bottles is having so with a background in retail I knew there had to be a better way. And so the journey began to re-package British spring water into something that is better for the environment, better for our health and accessible to everyone. Being able to further increase the sustainable credentials of our cartons is another milestone for us and a proud achievement because it makes them even easier to recycle across the country."
The new cartons have been strategically designed to ensure a low carbon footprint. They are streamlined and lightweight which gives them the lowest carbon footprint of all drinks containers and at least 1/3rd that of PET plastic.
The cartons are available in two sizes 330ml and 500ml with a RRP of 89p and 99p, meaning it is no more expensive than buying water in a plastic bottle. There are also three fruity flavours available in the 330ml size, Strawberry, Lemon and Lime and Peach and Orange.