During James Houghton's 10 years at GSK, he's played a central role in Sensodyne's success, helping it become the company's largest consumer healthcare brand
"We have an internal catchphrase at Sensodyne – 'being great at something is only the starting point, not the end goal'.
This neatly encapsulates the journey of what is GSK's biggest power brand – a journey of always striving for the next great step.
Sensodyne Original launched in the US and UK in the early 1960s as the first desensitising toothpaste. Since then, the brand has grown through a steady stream of innovation backed by scientific expertise. There was Sensodyne F in the 80s – the first toothpaste to help soothe nerves inside the teeth; 2006 saw the launch of the hugely successful ProNamel; and in 2010 Repair and Protect launched with its NovaMin ingredient which helps repair sensitive teeth.
Today, Sensodyne delivers consistent double digit growth, helping it become GSK's largest consumer healthcare brand. Launches are often recognised by the DBA for their business effectiveness, such as Sensodyne True White, which made sales of over $25 million in its first year, exceeding its target by 10 percent.
Such success is in great part down to the drive contained in the internal catchphrase mentioned above. It is underpinned by a restlessness for innovation and improved performance – and design has a huge role to play in driving that ambition.
Design at the heart of business
I joined the brand in 2012, as part of the design leadership team under then-Vice President of Design Andrew Barraclough. He spearheaded the cultural shift at GSK to deliver world class design and innovation with a team of design leaders. My mission from Andrew was to inspire and push creative boundaries, to leverage the brand's DNA and ultimately help generate brand growth through design language, value and effectiveness. But I also needed to demonstrate – especially to internal stakeholders – that design was a key enabler and should play a central role for growth and help differentiate Sensodyne from its competitors.
The design team is part of a marked drive to grow GSK's capability to tell distinctive stories rooted in brand purpose. We want to make sure the clinical results of our products are clear and evidenced.
But a modern brand also needs to engage through experiences across multiple touchpoints. Our goal has been to move the business from perceiving design as just packaging and a cost rather than an investment. Our brand experiences need to address everything from inclusivity, accessibility and the product itself – haptic, sensory, the satisfying click of a cap. And the stories you tell need to be memorable and distinctive, but also create and inspire trust and brand loyalty.
As in design-driven businesses like Lego and Phillips, the design leadership team at GSK are advocates for change, constantly working to convey the importance and value of design thinking and linking. From unique science visualisation that helps consumers understand our products in an accessible and inspiring way, product design that enables inclusivity or drives our sustainability agenda, communications through to digital, we're constantly considering the complete connected experience story.
Product and scientific innovation are fundamental to Sensodyne's growth and pipeline, but it's pointless having great science if you can't tell a great story and make it accessible. This is particularly true when it comes to oral health where people are quite happy to – dare I say – ignore it.
The triumvirate of design leadership
I like to think of the role of the design leader within a large corporate as a triumvirate of politician, provocateur and 'new business' person. The politician in us links our design thinking to all parts of the business – from procurement and manufacturing to commercial and ultimately the C-suite. It's imperative we all share the same sense of direction and what our values are.
The provocateur makes sure thinking is constantly moving forward, demonstrating design's value to the business. Meanwhile, our 'new business' mantle means we are constantly exploring opportunities, and the key to this is building collaborations with external partners and getting the best out of them.
When I joined Sensodyne, it was important to establish a way of working with partner agencies such as Marks, DCA, TAG and Interbrand, that delivers on the push and pull of a modern brand's requirements. As brands need to flex according to different touchpoints and markets, the teams that can deliver that flexibility proactively are the ones I rely on most. A complex global power brand needs a shared sense of ownership among all partners around what it means to be involved. Having like-minded people on the team, both internally and externally, clearly makes us more effective.
License to shift
Such foundations have allowed Sensodyne to embark on a journey of reappraisal. For example, it has undergone a complete rebrand over the past two years, shifting from a brand focusing on the physical symptoms of sensitivity to one dedicated to helping people reclaim life's small pleasures. "Life's too short for sensitive teeth" was the creative idea at the heart of the rebrand, with design principles shifting to bring this positivity to life.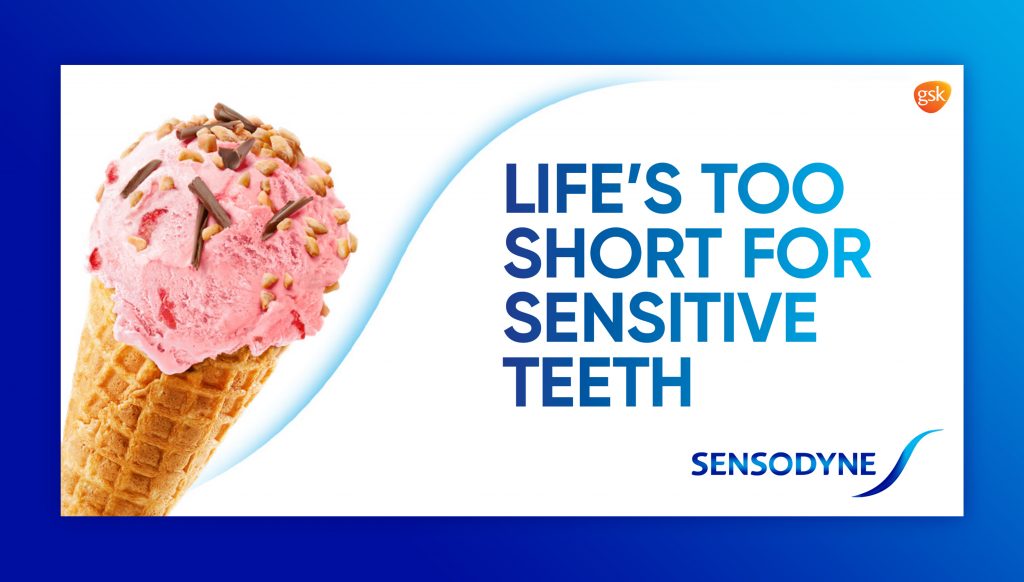 The visual execution introduces colour, vibrancy, energy and positivity to what was previously predominantly clean, white and clinical. We spent a lot of time defining how we would translate that repositioning into the visual assets and tone of voice to find a balanced approach of retaining what was the best of the brand and what was added into the mix. It needed to convey a brand more modern, approachable and appealing – not a brand I have to use, but one I would like to use. The brand was great before, but we have made it better and given it more opportunity to engage with people while maintaining the brand foundations and its credibility as a specialist recommended brand.
It also affords us many opportunities for creativity but without being formulaic. It allows us to expand it and take it to places we haven't been before.
Keeping a step ahead
That's what I find most fascinating about building and nurturing a brand: you can't get too comfortable; someone will always look to outflank you. The cycle of success starts with a vision, then you build, then you experiment, and then (hopefully) you win. After that, you need to rebuild to get back to vision. I like to drive that constant cycle and question what we need to rethink or rebuild. It's what keeps me awake at night, jotting down notes in the dark.
This restlessness and thirst for innovation also drives our new launches. For example, the recent Sensodyne Nourish range delivers the same efficacy and benefits as the core range but broadens its relevance and appeal to emotionally connect with a younger conscious consumer. Designed in collaboration with creative agency Marks, the concept and visual identity of Nourish connects more effectively with millennials who were previously less engaged with the brand.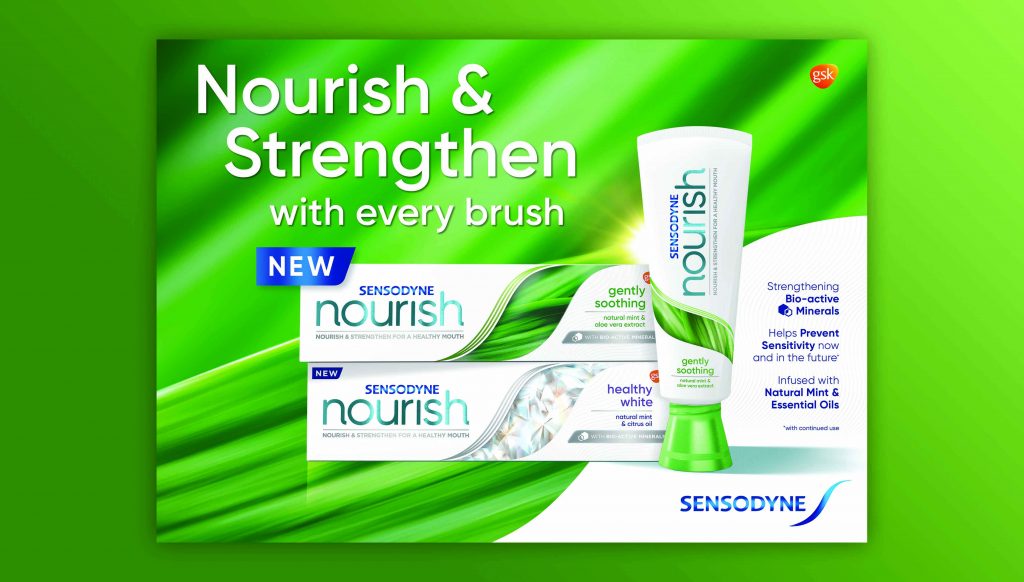 The visual approach for Sensodyne Nourish represents a distinct shift from the parent brand, while retaining the trust and recognition that its established visual markers provide. But that's the beauty of Sensodyne's experience brand language – it has the creative capacity to expand and adapt to tell meaningful, memorable and distinctive product and efficacy stories.
Given the market Sensodyne is in, and the size of its main competitors, we need that flex, to always be on the ball. We're small compared to the likes of Colgate and Crest in terms of retail shelf space occupied and number of variants and innovations per year. The strategy, therefore, must be very robust. We can't afford to not be sharp when it comes to getting launches right and supporting them with the best assets and communications possible, because we need to work that much harder to resonate with consumers. It is a keen battlefield.
Keeping an eye on the future
This all brings us back to our guiding catchphrase: "being great at something is only the starting point". Sensodyne's success is propelled by constant thought of new opportunities, of future proofing, of making sure we have capabilities, assets and stories that are multi-dimensional. They need to be able to grow and amplify. For example, with Sensodyne Nourish, we are already working on phases two, three and four. If you just focus on the job at hand, you end up not being able to develop or seize the next opportunity. You need to be constantly thinking beyond the here and now and think instead of where the future might lead.
For Sensodyne, that future is set to be continued double-digit growth, continued evolution of our stories and conversations with our customers, and continued commitment to our purpose of 'helping humanity reclaim life's small pleasures'. That is the ambition – and we're well on track to make it a reality."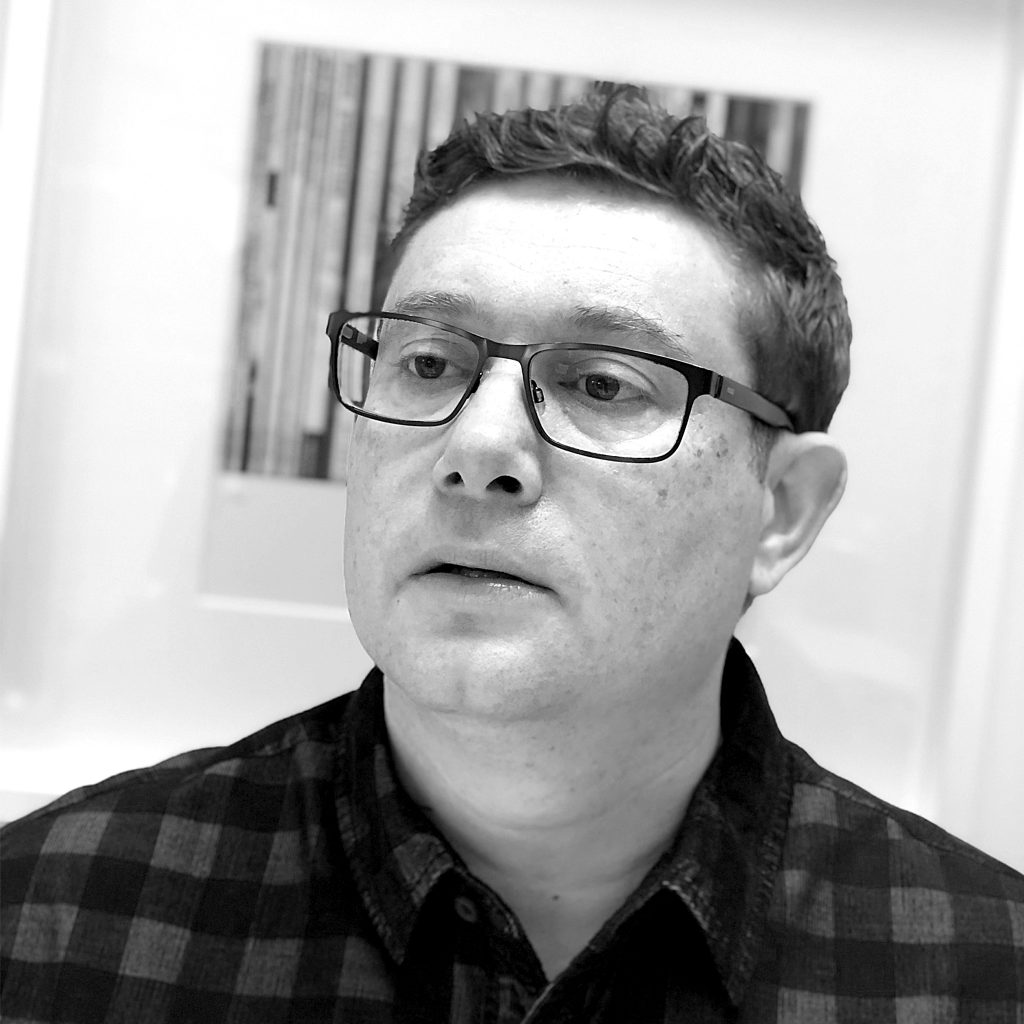 James Houghton, Global Experience Design Director – Consumer Healthcare, GSK
As senior global design director for brand experience for Sensodyne and Pronamel, GSK's first $2billion consumer healthcare brand across 120+ markets, James is responsible for creative leadership through design thinking and linking. He works alongside Category Commercial and R&D to deliver award-winning products and innovation and implement holistic and omnichannel brand strategy. www.gsk.com